Quote of the Day:  If you would attain to what you are not yet, you must always be displeased by what you are. For where you are pleased with yourself there you have remained. Keep adding, keep walking, keep advancing. ~Saint Augustine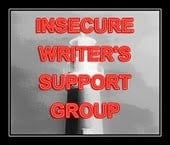 In addition to the Blogging from A to Z Challenge, I am posting today for the Insecure Writer's Support Group, hosted by Alex J. Cavanaugh. An increasingly large number of us post the first Wednesday of every month about our writing life, angst, accomplishments, and encouragement.
Today, I'm focusing on turning my diligence into dollars. In the past month I've turned down three opportunities to volunteer, i.e. give away my writing knowledge and experience for free. It seems this is the time of year for writing contests, and I've been asked to judge three different ones. I said, "No." (Krista, you'd be proud of me.) The amount of time I'd need to put into this volunteer opportunity would take away time that I could use to work on building my own writing career. I can't justify doing it. I'm focusing right now on building revenue as a blogger, writer, reviewer. I feel I am an untapped (underpaid) resource. I need to stick my neck out a little further and seek out paying resources.
Is that a little scary? Yes. So, what do I need in order to go forth and prosper? Number one, I need to believe in my own worth. I had a chat with my financial planner today who encouraged me to keep pursing paid writing gigs. I had a meeting last month with a career counselor who said, "Think bigger." (I wrote about that meeting last month.) And, those requests for volunteer opportunities showed me one important thing, my opinion and expertise are desirable. Now, to get the word out that I'm available for hire.
The other scary part of that? It seems that once people take themselves seriously, set boundaries, and request adequate compensation, some people pull out, disappear, and leave you hanging. My career counselor would say, That's fine. Let them. You will be freed up for more lucrative opportunities.
Did I mention that my words for this year are Fun and Prosper? It's time.
Go. Create. Inspire!
Journaling Prompt:  How have you turned your diligence into dollars?