Quote of the Day:  For I know the plans I have for you, says the Lord, plans to prosper you and not to harm you, plans to give you hope and a future. Jeremiah 29:11 (NIV)

Aren't those beautiful words? Do you believe them? They give me so much hope. 

The past few years, some friends and I have chosen a word or phrase for the New Year. Last year, it was Open. I was indeed open to new adventures and possibilities. My sister Joy and I opened Primo Art Spa. I was open to more students, varied writing assignments, and events. I was open to looking at things in a new way. I love being open!

And, now, for the words for 2014…….drum roll, please……..


Prosper and Fun!
Both words kept popping into my head, and I thought, "Can you both prosper and have fun?" I say, "Yes." It certainly will be fun to prosper in: my piano studio, my home life, my love life, my writing endeavors, my sense of adventure, my other relationships. Why not? God said it right there in Jeremiah 29:11, "I have plans for you to prosper." OK, God, lead the way. I'm still open!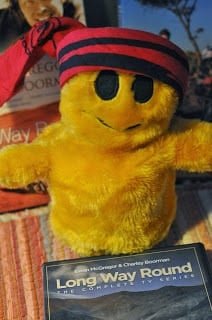 Mr. Happy, all fat & happy from the holiday faire.
And, we have some great plans cookin' for the April Blogging from A to Z Challenge.
Mr. Happy, Millie & Willie, and the Biker Chef are all on board.
Vroom!
Journaling Prompt:  What's your word or phrase for 2014?