During the month of April, I participate in the Blogging from A to Z Challenge. That is 26 posts in one month, for each letter of the alphabet, time off for good behavior on Sundays. Tons of bloggers have signed up. Last I checked I was #977. This year, Millie and Willie Cottonpoly, my sock puppet creations, are here to tell you their story and share reviews, ideas, and inspiration with you. They're also helping to teach theatre classes for kids in the Brainerd area, and continue to view and review theatre productions and some books. This retired couple doesn't just sit around watching reruns on MeTv. (Although, Willie does like to put up his feet whenever Petticoat Junction comes on. It's that sound of the train whistle. Millie makes no apologies for watching the Lassie marathon while holding her dog Tillie on her lap.)
B is for Beverages with a salad. The Bloody Mary's at K.C.'s Saloon in Pillager are loaded with salad on a stick. Millie and Willie had a hankering for something cool and spicy and headed over there one Friday afternoon. Mr. Happy, who's always happy to accompany anyone on an adventure, rode along.
Willie: Hey, Mr. Happy, give me a leg up to the counter, here. I want to see all the fixings that garnish this drink.
Mr. Happy: I'd be happy to do that for you, Willie. Are you a fan of Bloody Mary drinks?
Willie: Never had one before. Nope. I usually stick to straight juice, or an occasional beer from Schell's Brewery, The Biker Chef's hometown. But, it's good to try something new now and then. Right Millie?
Millie: Take it easy, Willie, or I'll have to take you home for a nap. (looks at the bartender) Make mine extra spicy.
Mr. Happy: Now, we're talking, Millie.
Willie: I've counted 18 items in my drink, including shrimp and a hard boiled egg. How did they know eggs are my favorite?!
Mr. Happy: I like the baby corn, mostly because it's that cheerful yellow, and this funny looking pepper has cheese inside, mmm.
Millie: I have an onion, pickle, carrot, a Brussels sprout, green beans, celery, and there's more hiding down inside the drink. There must be over 20 items in here!
Willie: That's a pepper! (takes a long drink of the cool liquid as his eyes begin to water)
Mr. Happy: Now, that we've had our salad on a stick, let's order an appetizer.
Millie: They have my favorite Bourbon sauce here for their chicken wings.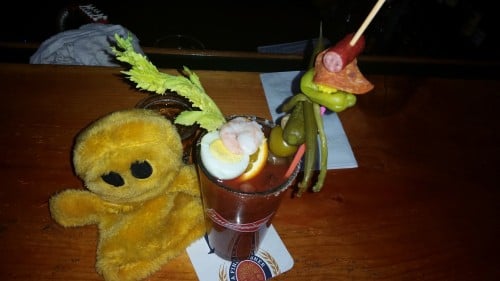 (The three friends enjoy their outing at K.C.'s where the wings are delicious, the Bloody Mary's are spicy, and the salad that garnishes them quite satisfying. They ride home singing a boisterous rendition of I've been working on the Railroad, while Millie rolls her eyes and says, "Oh, for Heaven's sake." When they get home, Willie kicks off his shoes, plops on the couch, puts his feet up on the foot rest, turns on Petticoat Junction, and promptly begins to snore.)
 Go. Create. Inspire!
Journaling Prompt:  Where's your favorite hangout on a Friday afternoon?