During the month of April, I participate in the Blogging from A to Z Challenge. That is 26 posts in one month, for each letter of the alphabet, time off for good behavior on Sundays. Over 1000 bloggers are participating this year, and last I checked, I'm #974. This year, Millie and Willie Cottonpoly, my sock puppet creations, are here to tell you their story and share reviews, ideas, and inspiration with you. They're also helping to teach theatre classes for kids in the Brainerd area, and continue to view and review theatre productions and some books. This retired couple doesn't just sit around watching reruns on MeTv. (Although, Willie does like to put up his feet whenever Petticoat Junction comes on. It's that sound of the train whistle. Millie makes no apologies for watching the Lassie marathon while holding her dog Tillie on her lap.)
C is for the Coco Moon Coffee Shop in downtown Brainerd, MN. Millie and Willie drop by now and then for a moonshot and one of the Biker Chef's delicious scones. Mary spent hours here writing her first play, Coffee Shop Confessions. That's where the two of them met. Must be something about the smell of coffee, the energy of the place, and the delicious treats.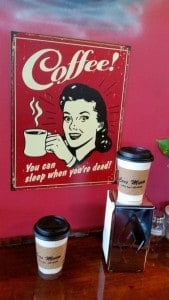 Millie: Rise and shine, Willie! We're meeting Mr. Happy at the Coco Moon this morning.
Willie: (leaps out of bed, puts his pants on, and heads towards the door) If they'e out of the Biker Chef's blueberry/white chocolate chip scones, I'm going to be so disappointed.
Millie: You could branch out and try a raspberry/white chocolate scone, or a Plain Jane with the Maple Cinnamon.
Willie: When you have a favorite, you have a favorite. Step on it, Millie. That Mr. Happy always beats us there.
The couple enters the already crowded coffee shop. The espresso machine sounds like a train engine. Willie can't help himself, he starts singing I've been working on the Railroad, all the livelong day. Millie rolls her eyes, but no one can hear her say, "Oh, for Heaven's sake." Mr. Happy waves at the Cottonpoly's. He already has his drink in his hand.
Mr. Happy: Good morning, Millie, Willie. Looks like a full house today.
Willie: They'd better not be out of blueberry/white chocolate scones. You didn't snag the last one, did you Mr. Happy?
Millie: Relax, Willie. I just bought three. Looks like we'll have to find a table outside. This place is humming this morning!
The three friends find a table. Willie quickly dives into his scone, moaning with pleasure.
Willie: I've traveled this country on every stretch of railroad track and never had coffee so sweet, nor scones that are so soft, moist, and delicious. Are you going to finish yours, Millie?
Go. Create. Inspire!
Journaling Prompt: What's your favorite warm beverage and who do you like to share it with?