Quote of the Day:  Establish credibility, create a safe environment, and invite people in. Karna Hauck, art teacher. I was talking with Karna at the women's retreat about classes that my sister and I offer in the Brainerd area. It takes a while for people to warm up to the idea, so she offered up those words. Whenever you are opening up a new business or services, especially in the arts, these are important words
to remember. Thanks, Karna!
For the past few years, I have participated in a Women's Retreat at Mount Carmel camp, near Alexandria, MN. I have taught journal making and journaling, and for the past four years, my cousin Angie and I have been the music leaders. I love making music with my cousin. We have similar backgrounds and tastes in music. We both play piano and sing, and Angie plays guitar. We also played for the worship service on Sunday morning. Barb Holm leads the retreat, and this year, the theme was Forgiveness. Well, considering it was the most gorgeous fall day on the last weekend of September, we were upstaged by the glorious weather and fall colors. Actually, it made for the most relaxing women's retreat that I've ever attended. The bonus was that Karna taught a painting class in the afternoon. We sang. We played. We learned about forgiveness and letting go. We took time to walk the beautiful camp, and I even sneaked in a short nap. The food was good, and the company was better. I'll let my photos tell the rest of the story.
I sat between two skeptical and reluctant artists. Laura said that she always thought of her husband as the artistic one in her family. It seems to me that a gift isn't limited to just one person. I love her painting! I especially like the use of color and swirls. That's just what it's like as the leaves are falling, and the spirit is moving!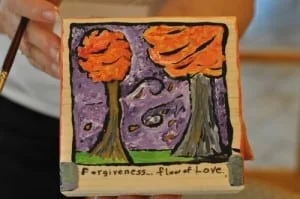 The topic of Forgiveness is heavy. Someone has done a terrible thing, a thing that is hard to both forgive and forget. Barb helped us see that holding onto that "victim" card only hurts us. She talked about how forgiving someone doesn't mean you are condoning the act, nor does it mean you want reconciliation in the relationship. It does not mean going back for more abuse. It does not mean you are letting someone off the hook for their behavior. What forgiveness does is sets you free to no longer be stuck in the anger and the fear that you have from the situation. 
We also had moments of levity as we interacted and enjoyed the gorgeous space. Barb brought her extra books, wrapped them up, and had us open and exchange, as needed. I wanted the poetry book that Sue grabbed. She didn't want to give it up. I got one on miracles. Eh, it would have been ok. But, there were a few extra ones, so I set my miracle book back into the circle and opened one on the Parables. Sue says, "Oh, I want that one!" So, we ended up exchanging after all!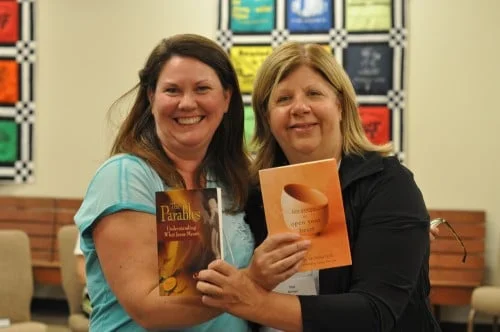 I don't know how many retreats, conferences, or camps I've been to. Many, many over my life. And, I always enter them with a bit of trepidation, and I always leave them with new friends, fresh ideas, and a soaring spirit. 
Thanks, Barb, for leading another meaningful retreat. Thanks, Angie, for being my music partner. Thanks, God, for bringing us all together for the weekend and the bonus of gorgeous fall colors and weather! (If you would like to see more pictures from this weekend, visit my facebook page.)
Go. Create. Inspire!
Journaling Prompt:  What did you do on that final, gorgeous fall day in September? Describe a getaway that left you feeling relaxed and renewed.