Coffee Shop Confessions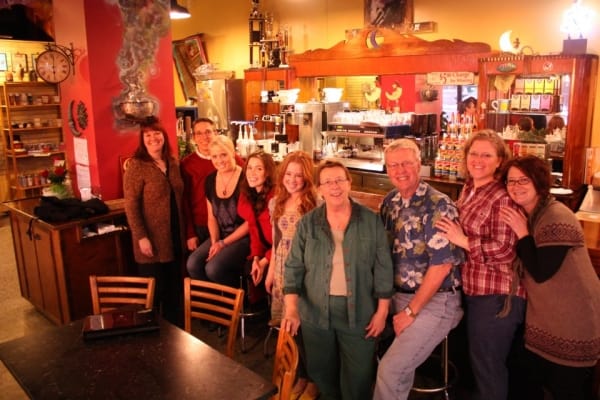 I wrote my first original full-length play, Coffee Shop Confessions, in the Coco Moon coffee shop in downtown Brainerd, MN. We performed it at the Coco Moon, the community Center, and The Shante in Pillager. All the shows were sold out and the audience said they felt like they were going out for coffee or dinner with a friend and eavesdropping on our (the actors) conversation. 
Coffee Shop Confessions is about five women who meet regularly at the coffee shop. They're in a singing group called Moxie Mamas and their next gig is the Race for the Cure Luncheon. Besides talking about their song list, they talk about their lives. Lolly is a recent widow and starts to take a shine to Sam the coffee shop owner. Her daughter Laura is a busy mother of five and can't get enough caffeine. From breast feeding to soccer fiascos, she has a wealth of stories to share! Roxy is a young artist, married to Paul who is her rock and best friend. She worries about getting breast cancer because her mom died of the disease when she was quite young. Jewell sings like an angel and has no self-confidence. Her cell phone is constantly buzzing with messages and demands from her husband. She bears all the burden of raising two young sons, and he reserves the right to criticize and control. Then, there's Aubrey, hair stylist extraordinaire, and full of sass. She's not afraid to speak her mind and is actively searching for Mr. Hottie, whether it's online or sitting in her salon chair. Micki is a high school senior, searching, and finds support from Lolly, Sam, and the Moxie Mamas. Nick is a minor character who throws a new twist in the lives of the Moxie Mamas. He's a writer for the Minnesota Monthly, highlighting entertainers. And, Mary sits quietly in the background, writing, observing, and feeling inspired.
Run time: approx. 90 min. 7 women, 2 men, contemporary setting
For inquiries about my script, contact me here. Thank you.
Go. Create. Inspire!