Quote of the Day: Music has healing power. It has the ability to take people out of themselves for a few hours. Elton John. In the musical Bandstand's song Breathe, the WWII vets, who are suffering from PTSD sing about how they "breath through the instrument," and lose themselves in the songs, and for those moments, they don't think about the horrors of war, the loss, their buddies blown to bits. The music brings them together and gives them new meaning for life, connection, and healing.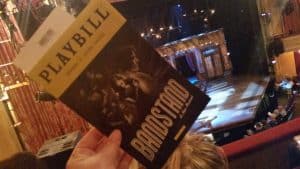 To celebrate my 50th Birthday, I traveled to NYC with the Biker Chef. My trip was built around Broadway, his on the culinary adventure. We experienced all that we were hoping for, and more. On my Birthday, we saw Come From Away for the 2:00 performance, and Bandstand in the evening, a double feature Birthday that couldn't have been more delightful. We used the time between shows to sample the fare in NYC, walking down Restaurant Row, grabbing a slice of pizza, stopping in for tapas at a Cuban Restaurant, and COCO Shrimp and Thai Dumplings at Yum Yum Too. After the show, we went back to Yum Yum Too (662 9th Ave, corner of 46th St.) for a delicious curry dish. (We felt so New York.)
Bandstand is the story of Donny Novitski (played by Corey Cott, who plays a mean jazz piano and has a sweet voice) who has just returned from the World War II, broken and longing to get his life back. But, you can't go back to the way it was before, because everything is different, including you. He starts asking around to find more vets to form a band. In the song, "I Know a Guy," he's connected with the various players. The drummer is "shell-shocked." The trumpet player is in the band to feel less lonely. The bass player drinks to forget. The trombone player is a stranger to his wife and kids. The saxophone player is trying to gain his confidence back. And, Donny Nova (changed his name to be more of a show name) needs to find forgiveness from his buddy's war widow, and to forgive himself. The war widow, Julia Trojan, is the vocalist (played by Laura Osnes whose voice is angelic). All the performers play their own instruments. We are literally watching a jazz ensemble form and perform on stage. It was incredibly engaging and entertaining. I feel so fortunate to have heard this cast in person. I bought the cast recording, and listen to it often. I played it for my boys, H.S. jazz musicians, and they said the music sounded like it would be fun to play. I hope this show tours in Minnesota, so I can bring them! The Biker Chef said he'd go to both of my "Birthday" shows again. 
Bandstand closes on Broadway this Sunday, Sept. 17, 2017. In this article from Broadway World, they announce that Bandstand will be on a National Tour sometime in the future. Watch for it in a city near you. It is a musical that has all the classic elements, great tunes, story with heart, romance, high energy dancing, and excellent musicians both on and off the stage. I loved it. 
Go. Create. Inspire!
Next up, a triple feature weekend in Minneapolis/St. Paul, Twin Cities Theater! In the Heights at the Ordway, the world premiere of the MN hockey musical The Abominables at the Children's Theatre Company, and The Nether at the Jungle Theater in Minneapolis.
Journaling Prompt: What songs bring you to another place and help you cope with life's challenging moments?