Quote of the Day: No matter what happens, keep on beginning and failing. Each time you fail, start all over again, and you will grow stronger until you find that you have accomplished a purpose – not the one you began with perhaps, but one you will be glad to remember. Anne Sullivan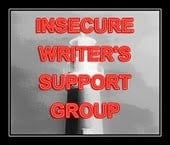 The first Wednesday of the month has rolled around again, and I'm posting for the monthly Insecure Writer's Support Group, hosted by Alex J. Cavanaugh. Go to his site for more details, to sign up and participate, or read other blogs of writers and artists who put their insecurities out in the world and offer support and encouragement to one another. Last month, I wrote about making myself vulnerable, facing my fears of sharing my work, and inviting people in to read my latest play out loud at a table reading/brunch at my house. Here's how it went.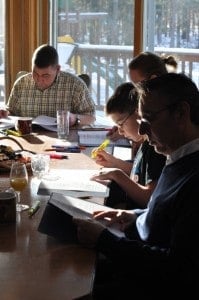 I invited a group of readers who are also actors and/or writers themselves to read this first draft of Grace Notes: Piano Bench Confessions. I was super nervous, and also excited. The Biker Chef offered to make brunch, and I figured, if nothing else, they'll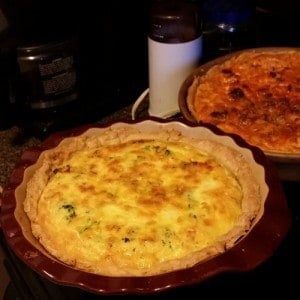 have delicious food. Well, he went all out and made four kinds of quiche, waffles, and had all the fixings. I made my traditional fruit pizza. We toasted the occasion with mimosas and juice, then, I handed out the scripts and my words were released into the world.
I am here to tell you that it is worth the angst to share your work. Find a support group that you trust and you will be lifted up. This group did everything that I was hoping for. They read the script beautifully. Lauren read the part of Grandma Grace so well, it was like she had read it before and already understood her character. I asked the two kids in the group to mark places where the words sounded too much like a grown-up wrote it for a kid to say. They were great at this! They pointed out some really important parts. I used the word vinyl to describe records. When we had our discussion, they asked "What's vinyl?" We talked about records, what they are, old time music, things that I will add to that scene. The group also pointed out places where I could expand the story, build the tension, and a place where the relationship was unclear. I'm ready to make revisions, now, and it will be a much stronger script. I feel like I held back in the first draft, and that my readers gave me the courage to get deeper into the story.
Go. Create. Inspire!
Journaling Prompt: Do you have a support group, off-line, for your creative work? What's the most recent brave thing you've done?