Quote of the Day:  I see no reason to keep silent about my enjoyment of the sound of my own voice as I work. Muriel Spark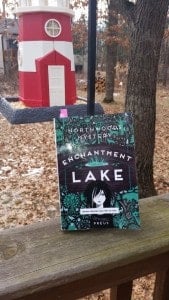 Margi Preus' latest novel, the first in her Northwoods Mystery series, set in the northern lakes region of Minnesota, Enchantment Lake has officially been released. I was fortunate enough to receive an ARC from Margi and wrote the review here. I wanted to let you know that the book is now available, and provide a link to Margi reading an excerpt from her book for KUMD, Duluth Public Radio. In addition to hearing the author read her work, I'd like to point out that the station welcomes women writers to read their work on their station. I know some local authors who would be excellent readers for this. I don't have any books out. I've written plays, so I'm looking at another regional radio station who is seeking submission for radio plays, about 25-27 minutes in length (4800-5200 words), rated G. I'm hoping Millie and Willie might have their radio debut on Lakes Area Theatre. You don't have to be from the area to submit a radio play. Go to their website for more info, or contact me. 
We're three weeks away from starting another theatre class for kids in the Brainerd area. Millie and Willie are excited. Mr. Happy is excited. Tillie is a little nervous as there are some mysterious things happening at The Old Farm. Stay tuned for further adventures!
Go. Create. Inspire!
Journaling Prompt:  What do you think about the above quote? Do you read your own work out loud? Just to yourself? Or, have you done some public reading/speaking? I really enjoy hearing writers read their work out loud. And, I loved hearing my play read out loud by other people. More on that on the IWSG post on Wednesday!