Quote of the Day: (from Press Release for Come From Away)
COME FROM AWAY can "restore your faith in humanity" and the L.A. Times remarks this "production lets
the simple goodness of ordinary people outshine sensational evil."
The musical has played to sold out crowds on Broadway and across North America on its first national tour,
in addition to garnering Best Musical wins (Olivier Awards, Drama Desk, Outer Critic Circle), a Tony Award
for Best Direction of a musical and multiple Tony Awards nominations including Best Musical, Best Book of
a Musical, Best Original Score and Best Choreography
Come From Away is my favorite musical, created by Canadian couple Irene Sankoff and David Hein, directed by Christopher Ashley. It has gorgeous music – strings, flute, drums, keys, and an ugly stick – with strains of music and rhythms from around the world. The storylines of the stranded passengers draw you in as you worry, feel lost and alone, and develop relationships. The acts of kindness from the residents of Newfoundland warm your heart and show what it truly means to take care of each other. What would you do "if a stranger ends up here by fate?" The people of Gander and surrounding communities welcomed them with open arms. They set up temporary shelters, invited some of them into their homes, provided clothes and personal care items, and enormous amounts of food. While everyone was anxious and confused after the attacks on New York City and the Pentagon on 9/11/2001, the people of Newfoundland made that difficult time easier on the stranded passengers, including 19 animals. 
I saw Come From Away on Broadway in September of 2017. I fell in love with it then, and I was so excited to learn that the tour was stopping in Minneapolis. We've had to wait a long time for it to finally arrive, and it did with so much warmth and welcome. I appreciated how this cast brought out the humor in this story. I laughed out loud several times. And, of course, I had tears in my eyes at all the tender moments, gracious acts of kindness, and from the loss, fear, and heartache of the events that week. Before seeing the show, I had never thought about the passengers on other planes that weren't allowed to land in the USA. When the US airspace closed, pilots were told to land at the nearest airports. Since Gander had a large airport, designed as a refueling station in the early days of commercial flight, many were rerouted there. 
As with many productions from Broadway to touring shows to local productions, Understudies and Swings have saved the day. Everyone was so outstanding and worked so well together, I didn't know who was the "regular" performer and who was filling in for the night. This is an ensemble show with precise timing. The music runs almost continuously throughout the show and one scene transitions into the next. The cast had impeccable timing, and they all play various roles throughout the performance, including quick costume changes, and switching accents and personalities.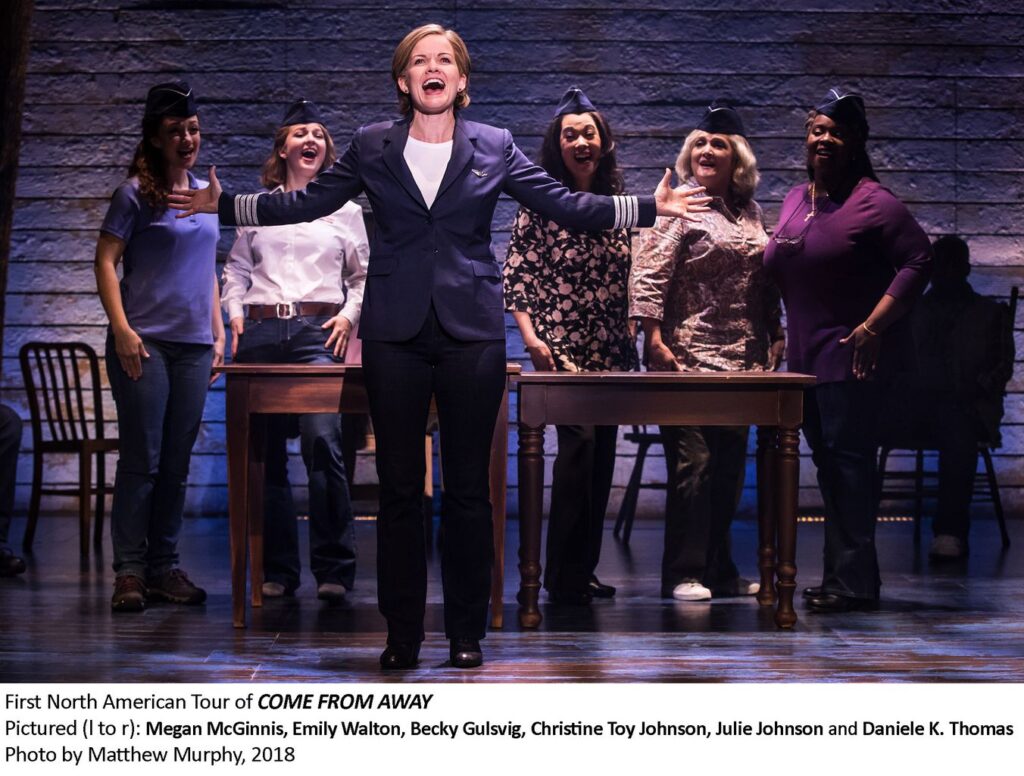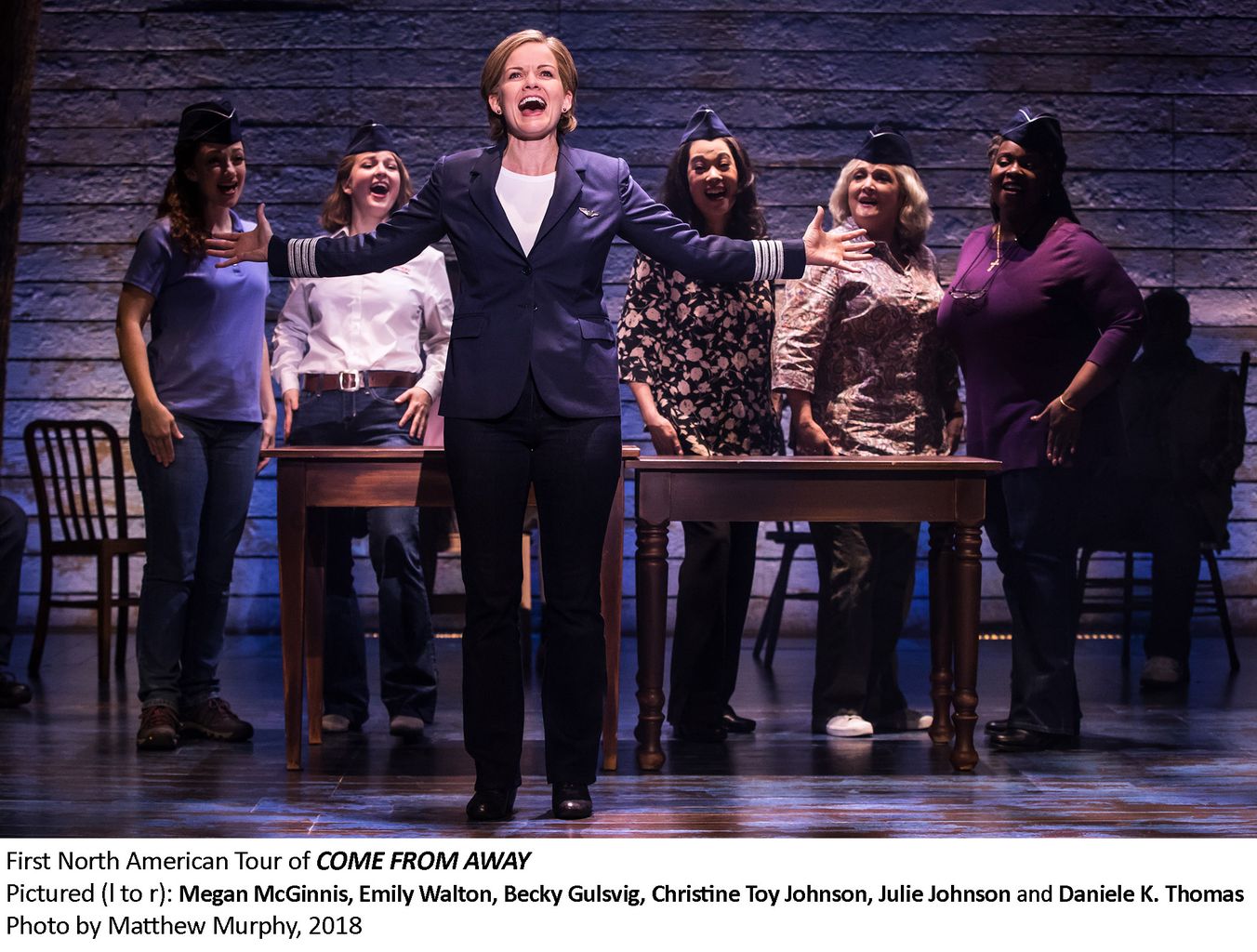 One of my favorite storylines is of the first American Airlines female pilot Beverly Bass. Her solo "Me and the Sky" sends chills down my leg every time I hear it. And, yes, I tear up, too. Becky Gulsvig originated the role of Beverly/Annette and others. She has ties to the Brainerd lakes area and several people commented on looking forward to seeing her perform. She does a tremendous job with that role, and her voice is stunning! 
I could highlight so many songs, scenes, and characters in this production. After I saw it in New York (Broadway review), I couldn't stop thinking about "Prayer" where Kevin T. remembers the old hymn, "Make me a Channel of your Peace." Then, others join him with songs and strains of music from other cultures and religions, and there's no holding back the tears at that point. Everyone is seeking comfort and solace in their own way, yet together. 
One of the liveliest scenes is when they all go down to the legion for a drink. Some of the Come From Aways go through the initiation to be a Newfoundlander. They drink a shot of screech (bad Jamaican rum) and kiss the cod. Everyone's on stage, even some of the musicians. The dancing is great, the mood is light, and then someone brings out an Ugly Stick, an instrument on a pole with a boot at the bottom and jangly bells and such attached. 
If you get a chance, go see this remarkable show. It will warm your heart and restore hope by seeing all the good that people can show to strangers who quickly become friends.
Come From Away will be at the Orpheum in Minneapolis, MN through January 23, 2022, then go on to other cities. You can see their tour schedule at the website for the Come From Away North America Tour. Or, visit Hennepin Theatre Trust for tickets and showtimes in Minneapolis. 
Masks and proof of vaccination for Covid-19 or a recent negative test are required to attend.
Go. Create. Inspire!
Journaling Prompt: Where were you when you heard about the attacks on 9-11? What would you do if a group of stranded travelers suddenly showed up in your community?