Quote of the Day: The dogs must race again. The Great Crag widens…its drop-off forever. Shadows haunt and bring the ice. It begins again. Excerpt from Joanne Sundell's Arctic Shadow, the second book in her Watch Eyes Trilogy. I read the first book, Arctic Storm, and wrote about it during the April 2015 Blogging from A
to Z Challenge, H is for Huskies, and used my characters Millie and Willie to do an interview with Joanne. Millie and Willie opted out of doing another interview. (The challenge is over, and they're on vacation.)
Joanne has a brilliant story line going throughout her Watch Eyes series. Anya, a Chukchi girl from Siberia, is traded away from her tribe in Arctic Storm. Her beloved Huskies are also sold away. They are more than dogs to her, they are her family. She can't live without them. And, so, she perseveres, risking her own health and safety to reunite with them and keep them safe. But, she's only a 13-year-old girl up against the elements of nature and the spirit world, not to mention the evil men and women who turn on her. It is not an easy road for Anya. She meets Rune, a Norwegian American seaman, who helps her take care of the dogs and races them in Arctic Storm. In Arctic Shadow, the journey continues. Rune ends up back on the formidable seas, and Anya is left behind in frontier Alaska where she is tricked and tormented by his mother and sister.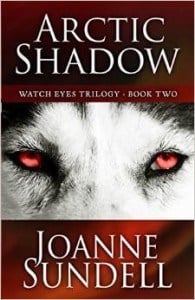 Arctic Shadow is a fantastic blend of suspense, frontier life in Alaska, and mysticism. Anya is a shaman and just barely understanding her powers. Her beloved dog Zellie is dead, yet she is a strong spirit inside Anya. Rune also has connections with the spirit world and knows that the rages of storm and death come from a darker place where the evil spirits are trying to gain control. Joanne creates a fascinating blend of fantasy, history, and real life hardships. I keep rooting for Anya, and ache for her when cruel things happen to her and her Huskies. I'll have to admit it was a little hard for me to read this book because of the physical cruelty towards the dogs, and the mental cruelty towards Anya. That's also a good sign, because it means that Joanne did an excellent job of creating sympathy for her characters. 
Since my fictional character Millie is a dog-whisperer and has such a soft heart, especially for dogs, she told Willie to just read the book on his own and let her know what happens, leaving out the details that would hurt her heart. I look forward to the third book in the series and hope that good will triumph over evil and that Anya will live out the life that she's been born to lead. This is a great trilogy for anyone who loves dogs, dog racing, Alaska frontier stories, and a bit of mysticism.
You can find out more about Joanne Sundell and her books at her website.
Go. Create. Inspire!
Journaling Prompt: Do you have a beloved pet? Have you ever traveled to Alaska or experienced dog-sledding? Would you like to?