During the month of April, I participate in the Blogging from A to Z Challenge. That is 26 posts in one month, for each letter of the alphabet, time off for good behavior on Sundays. Over 1800 bloggers are participating this year. Last I checked, I was #910. This year, Millie and Willie Cottonpoly, my sock puppet creations, are here to tell you their story and share reviews, ideas, and inspiration with you. They're also helping to teach theatre classes for kids in the Brainerd area, and continue to view and review theatre productions and some books. This retired couple doesn't just sit around watching reruns on MeTv. (Although, Willie does like to put up his feet whenever Petticoat Junction comes on. It's that sound of the train whistle. Millie makes no apologies for watching the Lassie marathon while holding her dog Tillie on her lap.)
H is for Huskies, a very special dog breed. Joanne Sundell wrote a wonderful book about Huskies, a 13-year-old girl who tries to rescue them, a journey, and a bit of mysticism.
Millie and Willie Cottonpoly interviewed her for this post.
Millie and Willie as Radio Hosts:
Millie: Good morning listeners and dog lovers and welcome to the Candid Canine Call-in Show, here on Play off the Page radio. I'm Millie Cottonpoly, dog-whisperer, and lover of all doggie tales.
Willie: And, I'm Willie Cottopoly, lover of good food, dog stories, and Millie, of course – especially her custard pie.
Millie: Thank you, Willie. With us today is Joanne Sundell, author of Arctic Storm, the first book in her Watch Eyes Trilogy. Welcome, Joanne.
Joanne: Hello!  I'm so excited to be here and so happy to meet you both.
Willie: You know how they say, "You can't judge a book by it's cover," but I'll have to say, Joanne, that the cover art on your book, Arctic Storm, really catches your eye. In fact, I feel like they're following me.
Joanne:  Great!  That's the whole point of the series name, Watch Eyes Trilogy.  The eyes are supposed to watch over you.  The "watch eyes" of the Gatekeepers, I call them.  In Chukchi history (todays Siberian Husky is the Chukchi dog native to far Northeast Siberia), the Chukchi people believed that their beloved sled dogs waited for them in heaven to help pull their sled across when their time came.  The people further believed that two Chukchi dogs guarded the gates of heaven.  Thus, "watch eyes" watching over them.
Watch eyes of the Siberian Husky are predominantly blue, in my experience. Their eye color can be mixed, however.  Sometimes one eye will be brown and the other blue, or partially mixed in the same eye.  The term here is hetero-chromia.
Willie: Wow. I learned something new today. And, just as piercing and mysterious as those eyes, the story gave me chills as I read it.
Millie: I fell in love with the main character Anya right from the start. She's young, just 13 when the story begins, but I feel a wisdom in her that I don't feel in many grown-ups. And, of course, I admire the way she communicates with her dog family. Where did you get the idea for her deep bond with her dogs? Do you know anyone who is a dog whisperer?
Joanne:  Hah … funny you should say that.  There are people who claim to be dog whisperers and frankly, I don't doubt it.  There are people who profess to be mediums and channel the spirits of loved ones, and I don't completely doubt this can happen.  That's the whole point of my arctic dog series.  Does anyone really know for sure?  If honest, most will answer, no.
History gave me all the answers to your questions.  Research into the beginnings of the Siberian Husky stirred and revealed the spiritual beliefs of the Chukchi people of Siberia. Their holy men and women were shamans.  Yes, girls could be shamans.  Shamans were considered mediums to other worlds, speaking to spirits.  The Chukchi people depended on their sled dogs for hunting and for survival in such a harsh climate.  My heroine, Anya, was born out of this rich Chukchi heritage and it seemed natural for her to be a shaman on Native Earth, and a spirit in worlds beyond.  This grew out of the natural mist and magic of this unique people and the unique area in which they lived; as I researched the Siberian Husky and their fierce struggle for survival began to unfold.
Anya was born to Native Earth to save the Chukchi dog from extinction.
Millie: While I was reading, I was remembering a book I loved as a child, Julie of the Wolves by Jean Craighead George. Did you read that book when you were a girl, or books like that? Do you see any similarities in the stories?
Joanne:  No, unfortunately I didn't read Julie of the Wolves, though now I just might. Once I was deep into the writing of Watch Eyes Trilogy, the works of Jack London would come to mind, thinking of White Fang and his wonderful dog, Buck, in Call of the Wild. I believe I made this immediate connection with Jack London's dogs, since I was writing my sled dogs as characters, and I didn't want to make my Zellie and Xander appear silly, like a cartoon character.
Willie: I am also a huge fan of Jack London. Joanne, I felt hungry most of the time while reading your book.
Millie: Willie, you feel hungry most of the time.
Willie: Yes, but this was different. I felt like Anya and her dogs rarely had enough to eat. I really had the sense of how hard life was back in the frontier days of Alaska, the Gold Rush, and people moving from one place to another, no cell phones or internet. They barely even got letters to and from some of those places. Did you do extensive research for this book/series?
Joanne:  I sure tried my best.  In some cases, there wasn't specific information and I had to connect the historical dots as best I could.  That being said, yes, research is the key in writing any historical fiction.  If you think of what's on TV today, multiple reality shows are set in the far north.  Their travails today have much in common with times past in Alaska:  searching for food and shelter; fighting the severe elements; fighting isolation; getting your mail; and crossing vast tundra and ice.  Hunting and providing for your needs and those of your family remain pretty important in any arctic climate.
If you were lucky during the Gold Rush in Alaska or the Klondike, you were very fortunate if, after you stood in line for hours, you actually had a letter to show for it.  Due to the weight of mail freight, often packages and mail other than a simple letter never made it in the first place. Much was routinely tossed aside.  Imagine your disappointment when you waited in line, lonely in the vast wild—heartsick and homesick, and had no letter from a friend or loved one.
Willie: I loved getting letters from Millie when I was working on the railroad. I would have died of loneliness without them.
Millie: Most of the story seems realistic, the harsh terrain, the mix of miners, Native people like the Eskimos and Anya's people, and the Norwegian-American shipmen. Then, you have elements of mysticism, and I think it really works. I look at Alaska as a mystical place with the Northern Lights, long, dark winters, and land of the midnight sun. How did the mystical elements make their way into your story?
Joanne: You're spot on, when you mention the Aurora Borealis and brilliant Northern Lights!  My heroine, Anya, was born out of this mist and magic, being part native Chukchi and communicating with spirit. Brother Bear meets Call of the Wild, in this arctic series.  The spirit of the wild, the spirit of the Husky, and the spirit of the unique Chukchi tribe, all played a role in driving this story.  The land of the midnight sun is indeed, enchanting … where anything can happen if you watch, wait, and listen to the spirits whisper across the winds.
Don't even get me started on mystic Viking legend and lore in the arctic realm!
Willie: Millie, all this talk of Alaska gives me the itch to travel again. Now, that I'm retired from working on the railroad…
Millie: Don't sing it, now, Willie.
Willie: How would you like to go on a trip with me, Millie? What do you think, Joanne? Have you been to the largest state in the nation?
Joanne:  Adventure waits when you hop on board a local Alaska ferry and travel up Alaska's Inside Passage, passing through Ketchikan, Juneau, or Haines, and then landing you in Skagway; or traveling down the Aleutian Chain to Dutch Harbor where eagles abound. Adventure always finds you when you travel by car on some of the really long and isolated roadways from city to city and town to town. Two in the morning you might stop for a nap, only to awaken to a moose staring at you through the window.  Since much of Alaska remains relatively isolated, the price of a cheeseburger or a gallon of milk costs much more than in the lower '48!  In Denali National Park the bear is a sight to see.
Millie: Maybe you could stop back after you return from your trip to tell us about it. In the meantime, I think I'll lend this copy to our twin teen neighbor girls, Lillie and Billie.
Willie: Uh, Millie. We have just the one copy, and you know how they feel about sharing. Plus, they fight like cats and dogs.
Millie: They are polar opposites, that's for sure, but the one thing they have in common is a love of reading. If Lillie went to Alaska, she'd probably book a flight. Billie, on the other, can't wait to get her motorcycle endorsement when she turns 16, so she can ride up there.
Willie: We'd better give the Biker Chef and Mary a head's up. And, don't forget to bring Mr. Happy. That's a long way to ride on a motorcycle.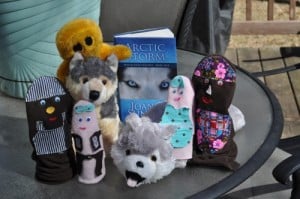 Millie: Thank you, Joanne. Is there anything else you'd like readers to know about your wonderful book and series?
Joanne:  I would like to thank you all for caring and sharing your thoughts on Watch Eyes Trilogy, and sharing your spirit of adventure in books and travel. It's great to connect with you!  This has been so much fun!  Get in touch anytime and I'd love to visit again.
I would also like to give a shout out to Five Star Publishing and their wonderful Frontier Fiction line, where authors can find a home for their stories!
Readers can look for Arctic Shadow, Book 2, Watch Eyes Trilogy, to be out in June of this year, and for Arctic Will, Book 3, Watch Eyes Trilogy, to be out in April, 2016.  If anyone's interested in a copy, your local library might already have the books in stock.  If not, request this of the librarian. It just might go on order!
If anyone's interested in purchasing, please visit
my website http://www.joannesundell.com/books/
or amazon http://www.amazon.com/Joanne-Sundell/e/B001JP7NIW and it's yours in hardcover or e-book!
Husky Hugs to you, Millie and Willie!
 Go. Create. Inspire!
Journaling Prompt: Do you like dog stories? Do you have a dog? Have you been to Alaska?