Quote of the Day: When words become unclear, I shall focus with photographs. When images become inadequate, I shall be content with silence. Ansel Adams
Laura Radniecki is a photographer here in the Brainerd Lakes Area. She has written an ebook and made an online course called Love Your Camera to help people make better use of the DSLR cameras and take better photos. I took her course a few years ago, in person, and learned so much. She helped me understand the settings and create better shots. She also encouraged me to get a new lens, the 50mm, which offered more creative shots and was good for more indoor shots. Since then, I have had several of my photos printed in magazines to go along with the articles I submit as a freelance writer. She is offering a giveaway and special introductory prices on her ebook and course. The following is an interview with the author and photographer.
Hi Laura, Welcome to Play off the Page. How long have you been working professionally as a photographer?
​Hi Mary! I've been working as a professional photographer since 2009.
I began my career while living on Oahu, Hawaii with my husband who was finishing up his Active Duty Marine Corps contract. I have a nursing bachelor's degree, but while we were on Oahu, I bought my first DSLR camera to take photos of the paradise landscapes there. My passion was born and soon, I was scouring the internet and practicing with anyone who would stand in front of my camera. I learned everything I could possibly learn and I started to photograph families on base, and homecomings when the Marines would return from deployment. ​When we moved back to Minnesota in late 2009 after Matt's contract was finished, I officially started my photography business, and have been photographing professionally ever since!
What are some favorite locations where you've done photo shoots?
​I love photographing at the ocean, because I find a special magic present there. Maybe that's because it was one of my first subjects too as I learned about photography in 2009.
In Minnesota though, I love photographing at our gorgeous local resorts. Living in the Brainerd Lakes Area, we are blessed with incredible resorts that have a wide variety of settings throughout them. Each venue is unique and I welcome any opportunity to photograph at each one.​
Do you ever feel like you "play off the page" as a photographer?
​I like to say that my style of photography is Celebratory Storytelling and I consider myself a photographer with a classic, authentic style. That means I don't usually incorporate an edgy, modern vibe to my photography, because to me, it's important that my work be timeless. I want the photos I create to be as beautiful and powerful in 50 years as they are now.
That said, I love to capture motion in my images, as well as genuine emotions. I want to tell the story of my client's lives, and in order to do that, I welcome aspects of real life into the session.
Will you still be offering your courses for people who live in the area to meet with you in person?
​As of right now, I don't have any plans for future in-person workshops. Now that I have finished creating my online course and e-book, my efforts will be poured into their promotion in the months ahead. I also have plans to expand and grow my blog, and write about issues that are on my heart. ​
Many people are taking photos with their smartphones these days. What are the benefits of using a "real" camera?
​There's a saying that I wholeheartedly agree with, and it goes something like this: "The best camera is the one you have with you." Our smartphones give us a unique and powerful opportunity to document our lives in ways we never could before. Spontaneous moments are able to be captured that would have been missed before.
However, the capabilities of our smartphones cameras are greatly inferior to DSLRs and other more elaborate cameras. Some of the areas where smartphones might struggle with are shooting in low light, accurate focusing and being able to capture clear, non-blurry photos. Without getting too technical, DSLRs and other elaborate cameras allow us the ability to create images with certain looks like blurry backgrounds, and we are able to capture clear photos because we can manipulate settings like aperture and shutter speed to achieve desires results.
So while I'm a huge advocate for using whatever camera you have with you, I believe there is a huge advantage to using a DSLR camera, and I know the images are better because of it. ​
I can attest to that, Laura. I found myself feeling frustrated for not bringing my DSLR camera on a recent trip. While I could capture many moments, and appreciated the smaller lightweight phone, I missed my nice camera and the shots I could have gotten with it!
What advice do you have for people who want to self-publish their books?
​
I think the biggest hurdle to self-publishing a book is just starting. I had the idea for my photography e-book for a year or two before I actually did anything about it, and made any progress.
I began by outlining what the book would include, and filled in as many details and ideas as I could.
Then, I began writing. I didn't worry about the formatting or how "pretty" it looked until later.
I've written several other e-books since I wrote my photography e-book, and for these most recent books, I actually types them in Google Docs. I wasn't sure how I'd like that, but I really found it awesome and convenient. I could open my work on any computer as long as I had the internet, and the auto-save feature in Google Docs was PRICELESS!
Plus, it's free! :)​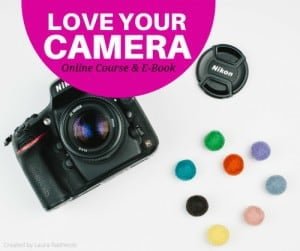 Laura is currently offering a giveaway of her e-book and course on her website, Laura Radniecki Images. You can also get some photography tips, or set up a photo shoot for your special occasion. I had Laura take my oldest son's senior photos, four years ago, and I've already booked her for my next graduate. She really listened to us and paid attention to my boy's personality as she took some wonderful shots that reflected him, our family, and our lives.
Thanks, Laura. It's always a pleasure working with you. I hope your course and e-book are a hit!
Journaling Prompt: Find a favorite photo and write about what is happening in the picture and why it's a favorite!