Quote of the Day:  I was thinking, as I watched her, how little it mattered– about her teeth, for instance. I know so many women who have kept all the things that she had lost, but whose inner glow has faded. Whatever else was gone, Antonia had not lost the fire of life. Willa Cather, My Antonia, Read more great quotes from My Antonia on Goodreads.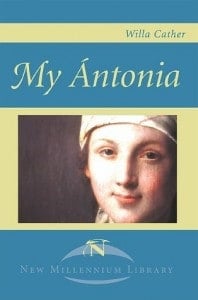 My Antonia, novel by Willa Cather, has been translated to the stage by Allison Moore, presented by Illusion Theatre at the Lab at the Lowry Building in St. Paul, MN. This is a novel that I read, and loved, when I was in college. We studied it. I felt connected to the story of the land and the woman who pioneered it. It was like reading about my own story. I'm sad to say that I am unable to attend the press performances, but I do want to promote the show. Here is the press release.
(MINNEAPOLIS; April 30, 2014) – Following a special performance of My Ántonia at the Red Cloud Opera House for the Willa Cather Spring Conference in Nebraska (June 7), Illusion Theater will bring playwright Allison Moore's critically-acclaimed show to The Lab at the Lowry Building, 350 Saint Peter St. in Saint Paul, for a 10-performance run June 13-28.
A story of the land and the people who came to settle the Great Plains, My Ántonia is also the story of a life-long friendship. Moore's award-winning adaptation of the classic Willa Cather novel is told through the memories of narrator Jim Burden, who after 20 years of living in the East returns to his small prairie town to see Ántonia, the Czech immigrant girl who shaped his understanding of life. The play is wrapped up in an environment of the changing prairie created by the actors, set and sound.
The theatrical adaptation was developed during Illusion's 2009 Fresh Ink Series and saw its first full-scale production in 2010, which won two Ivey Awards. Illusion Producing Director Michael Robins directed the world premiere of My Ántonia, and returns to direct this production. Other members of the creative team include Dean Holzman (scenic design) and Michael Wangen (lighting design).
The cast, supported by musicians performing original music by Roberta Carlson, features Delta Giordano, Anna Hickey and Dan Hopman, along with Zach Keenan, Rebecca Leiner, Ryan Patrick and Andrea San Miguel, who are current or recent graduates of the University of Minnesota/Guthrie Theater BFA Actor Training Program.
Tickets for My Ántonia are $15-30. Group discounts are available for groups of 10 or more people. Tickets are available at the Illusion Theater Box Office at 612-339-4944 or online at www.illusiontheater.org.
This activity is made possible by the voters of Minnesota through a Minnesota State Arts Board Operating Support grant, thanks to a legislative appropriation from the arts and cultural heritage fund, and by a grant from the Saint Paul Cultural STAR Program.
Performance Schedule
The Lab at the Lowry Building
350 Saint Peter St.
Saint Paul
Dates / Times
– Friday, June 13 @ 7:30pm – Opening Night
– Saturday, June 14 @ 7:30pm
– Sunday, June 15 @ 2pm
– Thursday, June 19 @ 7:30pm
– Friday, June 20 @ 7:30pm
– Saturday, June 21 @ 7:30pm
– Sunday, June 22 @ 2pm
– Thursday, June 26 @ 7:30pm
– Friday, June 27 @ 7:30pm
– Saturday, June 28 @ 7:30pm – Closing
About Illusion Theater
Since the Illusion Theater's beginning in 1974, Producing Directors Michael Robins and Bonnie Morris have used the power of theater to catalyze personal and social change, illuminating the illusions, myths, and realities of our times. In 40 years, Illusion has generated over 500 plays, developed thousands of artists and created ground-breaking educational works. Plays developed at Illusion have been produced in theaters throughout the world. Illusion's work has catalyzed conversations in living rooms, kitchens, coffee houses, schools and board rooms, and has led to transformations in policy, in organizations and in individuals.
If you're in the area, I hope you can go.
Go. Create. Inspire!
Journaling Prompt:  What book, or play, feels like it could be part of your own story?