Quote of the Day:  You play zydeco and you see the shoes flying off. You can't come to my show and stay unhappy all night long. You're going to break a smile and stomp your foot before long. This is happy music, and it makes you dance. C.J. Chenier, quote in the program from Chenier's performance at The Ordway Performing Arts Center in St. Paul, MN.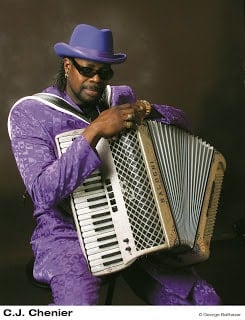 It was a dance party at The Ordway last night. The opening band, The Butanes and Wille Walker, brought the folks out on the dance floor up by the stage. A few of us small town girls held back unitl C.J. appeared with his magnetic musical personality and his energetic band. One guy was playing spoons on a metal vest that he wore on his chest. He was interesting to watch! Some people came dressed for Mardi Gras with hats and boas and beads and sparkly shirts. The rest of us looked like normal Mid-Westerners, mid-winter.
When C.J. and the metal vest playin' guy came down from the stage and walked through the crowd, nearly everyone was up and shakin' something. They were part of the the party and the party-goers were part of the music.
Listening to zydeco, a Cajun inspired form of blues, jazz and soul, makes you feel like having a barbeque down in the bayou with jambalaya and a mojito with fresh mint. It renewed my desire to visit New Orleans. (Hey, Chef, let's plan our next trip!)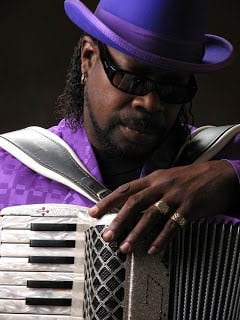 C.J. Chenier, Photo by George Balthazar
Check out C.J. Chenier and the Red Hot Louisana Band if they're coming to your neck of the woods. Wear your boa. Grab your favorite dance partner, and get ready to party! (If you go to his website, click on his name and you'll get a sampling of his energetic zydeco music.)

Go. Create. Inspire!

Journaling Prompt:  What kind of music makes your shoes come off?