Quote of the Day:  A book is a gift you can open again and again. Garrison Keiller
Due to some technical difficulties, I was unable to post the winners of Candace Simar's first book in her series, Abercrombie Trail, until now.
First, we numbered each person who left a comment on my blog who wanted to win a book. We put all six numbers in this coffee can, and asked the girls to each pick a number.
Then, the girls switched jobs.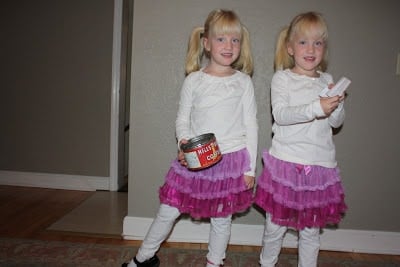 The second winner is #4, Robyn at Putting Pen to Paper. Congrats, Robyn!!!
TaDa! and Congratulations from the girls! Keep reading, writing, thinking, and discovering.
Go. Create. Inspire!
Journaling Prompt:  Have you ever won anything? Were you ever the one to do the choosing?