Quote of the Day:  No day is so bad it can't be fixed with a nap. – Carrie Snow, comedian
(I found that one plus several more great quotes on sleep in this month's Reader's Digest.)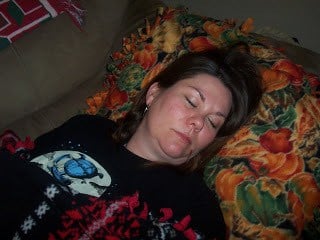 And, here I am indulging in one of my guilty pleasures.  (Notice the Scriptfrenzy t-shirt.)  I was a busy Mama that day from early morning blog posting to lunch with a friend, to coffee and scriptwriting, then taught piano lessons, fed the kids, hauled them to their stuff, then more stuff, and still more stuff.
In my drama, Coffee Shop Confessions, five women meet often for coffee and to plan songs and shows.  They are Laura, Lolly, Jewell, Aubrey and Roxy.  Laura's guilty pleasure is extra whip cream on her latte.  She tells Sam, the barista, to use skim milk "because I put on five pounds just last week."
Sam:  Hold the whip cream, too?
Laura:  Don't be silly, Sam.  A girl's gotta have some pleasures in this life.
Jewell confesses that she saves up the change from her grocery money to get pedicures.
Aubrey reads online dating profiles in between clients at her salon that is conveniently across the street from the coffee shop.
Lolly reads mysteries and keeps travel brochures in her handbag.
This boy enjoys a book, a beverage, and a sunny spot to read. (notice the product placement, non-paid advertisement)
My other guilty pleasure is anything with the main ingredient chocolate.  I saw a brownie recipe on a newly discovered blog, Bunny's Warm Oven , that I need to try this weekend.
Journaling Prompt:  What's YOUR guilty pleasure?  Describe a time when you went to extremes to have it or hide it.