Quote of the Day:  It all began with (Arlee's) my post from Saturday March 27, 2010 when I set forth a challenge to all bloggers for the month of April.   Can you post every day except Sundays during this month?  And to up the bar, can you blog thematically from A to Z? Arlee Bird, the Blogger who started the epic April Challenge that I have participated in since 2011.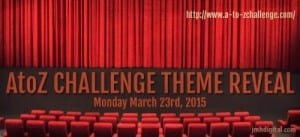 Today is the Great and Powerful Theme Reveal for the Blogging from A to Z Challenge in April. I was on the fence for a long time this year! The first year I participated (2011), I jumped in with a lose theme about the arts and names. The next year (2012) I went with an inspirational theme and spent a few months ahead of it taking pictures for each letter. For 2013, I introduced my sock puppets Millie and Willie Cottonpoly. They spent the month sharing their story in dialogue form. This left me open to continue with theatre/arts reviews, as Millie and Willie love all art forms – especially the theatre, and it was fun for me to develop these characters.
In 2014, The Biker Chef and I worked as a team, using the category within this website, Dine off the Page, we wrote about restaurants, recipes, and Chef's tips in the kitchen and outside on the grill. It was a huge success. We even got a regular paying gig out of it, which I will tell you more about later. 
For this challenge, I wasn't sure where to go. I have an idea for photos, but didn't start it early enough. I'll use that one next year! I wanted something that motivated me, and I really get excited about writing dialog, particularly when I'm using my sock puppets Millie and Willie, their friends Mr. Happy and other -illie characters, including their teen twin neighbor girls Lillie and Billie. I'm teaching a theatre workshop for kids in the area, and those characters are motivating all of us. Through them, I can give you updates on the creative process, write theatre and other reviews, and add a few foodie posts as well. Willie is a big foodie and retired railroad worker, and Millie is a dog whisperer. They have big plans to do a new kind of gardening this year, and even just thinking in their voices, I get ideas for blog posts.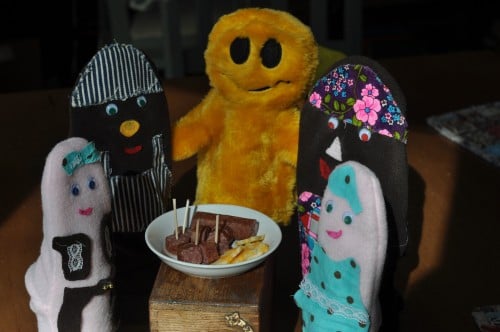 Willie: Did you hear that, Millie? We're on for the Challenge!
Millie: Yes, Willie. It won't be such a feeding frenzy this, year, though, so you can move away from the table for a while.
Willie: What?! Isn't the Biker Chef going to try out new recipes on us? I mean, I just bought a new fork and spoon.
Millie: Well, knowing the Chef, he's not going to let you starve. In fact, he has some big ideas, too, but we're also going to talk about our journey together, one step at a time.
Mr. Happy: I've been wondering how you two met?
Willie: The first time I laid eyes on Millie, I knew we'd be a perfect pair.
Lillie and Billie: (giggling) Ya, like one step forward and two steps back.
Willie: Hey, I can do a mean two-step.
Mr. Happy: Oh, that makes me so happy. Let's see it.
Willie: We need to start with my favorite song. You know it Millie.
Millie: (groans)
Willie: Lillie, turn on your keyboard. Billie, sing harmony. Here we go, everyone: "I've been working on the railroad. All the live long day…"
(a raucous discord of the old railroad workers tune ensues)
Millie: Oh, for Heaven's sake!
So, there you have it: Food, fun, puppets, plays, and gardening. Are you ready? Who's in for the Challenge? 
Go. Create. Inspire!
Journaling Prompt: Are you a blogger? Do you do challenges? Are you in for the Blogging from A to Z Challenge in April? What do you want to know about Millie and Willie Cottonpoly?