Quote of the Day:  A good writing community is essential on the writer's journey. What I learned from talking with Candace Simar on her most recent publication Blooming Prairie Book Four in the Abercrombie Trail Series.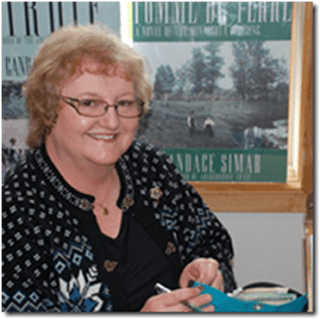 Candace Simar at a book signing in Fergus Falls
Candace Simar is a writer in the Brainerd lakes area. I consider her a neighbor and a friend. We've had lunch together. We have the same publicist, Krista Rolfzen Soukup at Blue Cottage Agency, and we support one another in our art. Candace came to my play Coffee Shop Confessions last spring and offered many words of encouragment for me as an artist. Thanks, Candace!
I had already fallen in love with Candace's Abercrombie Trail series before I met her. The journey starts with Evan Jacobson, a Norwegian immigrant in the mid-1800's, who lands in Minnesota. He takes the job of stagecoach driver. Candace uses this as an excellent story-telling tool as Evan drives over the newly settled land from Fort Snelling to Fort Abercrombie, meeting and greeting settlers along the way, as well as befriending some of the Indians, while fearing for his life from others, Indians and settlers. This was the wild west. The land and all it provides were the source of dispute and bloodshed.
In the second book in the series, Pomme de Terre, Serena Gustafson is a young bride. We experience the pioneer life through her. She is my favorite character in the whole series. I love many of the characters, and dislike a few, but Serena is the one I connected to the best. Pomme de Terre felt like it's own story, similar setting of Abercrombie Trail and Birdie, the third book, but with it's own storyline and main character. I was thrilled when I opened Blooming Prairie this weekend and found Serena telling me more of her story.  The exciting thing about this book is that Candace blends the two storylines, showing us how paths cross between her characters and how their future will unfold.
I could not put this book down! Seriously. I started reading it while waiting for the kids at the dentist office. The dentist had to tap me on the shoulder to get my attention. I was so engrossed in the story. I used the opportunity to rave about the book. She sounded interested in reading the series herself (you can promote yourself or others anywhere).
Candace Simar accepting her Spur Award for Birdie.
After Candace finished writing Birdie, which won the 2012 Spur Award for juvenile fiction set in the West, she thought she was done with the series. However, the characters weren't done telling their story. One night, she had a vivid dream about Serena. She dreamed in detail what is the opening scene of book four. While writing the book, about halfway through, she was visited again in a dream by the characters. She had thought she was going down one path with them, but they had other ideas. She went with what she saw in the dream. When she got to the end of the book, she thought it would be good to write a short epilogue explaining a little more about what happened with the plague of locust which devasted the farming communities in the midwest in the 1870's. After her editor, and sister, Angela read the first draft, she called up Candace and said, "You need to write an epilogue." That night, Candace dreamed the epilogue that is now in the book. This final vision helps resolve the story.
Holy smokes, people! Pay attention to your dreams. Keep your notebooks or notecards and pens and pencils by the bed. When the muse strikes, you don't want to be caught napping…wait…maybe that's when we finally let our guard down, quiet ourselves, and are ready to listen and see the visions laid out for us.
I told Candace I was so happy to go further on the journey with Serena. I had unanswered questions about her. And, even as the story unfolded in Blooming Prairie, I had some niggling doubts about her path. Candace and I talked about her as if she were a real person that we  knew personally…wait…isn't she? You writers know what I mean. Our characters are as real as the flesh and blood neighbors across the street.
Reading Blooming Prairie and all the books in The Abercrombie Trail series is reading my own personal history. My ancestors are Norwegian and Swedish immigrants. I grew up in Minnesota and have lived in, or passed through, many of the places that are the setting of these novels. It also gives me a better understanding of what happened between the Indians and the settlers, the government and its corruption, and that there are good and bad people in every type of community and generation. These are also stories of survival, a theme which I could read over and over.
Candace says that she writes every day, setting a 1,000 word goal, and is especially strict with herself when she's on deadline. She said that our writing community in this area has been a huge support system for her. She's a member of the Brainerd Writer's Alliance and the Heartland Poets. She was mentored by several older members along her journey. She never let the discouragements in the process stop her progress. She said that she set her heart to writing and telling these stories and did everything she could to make it happen. She attended writing conferences and intensive workshops. She networked with other authors and teachers. She says that most of the process and writing and publication are joyful. Parts of it can be a struggle, but what makes it worthwhile are the connections. Just the other day a woman from Eagan, MN called her and said that she had borrowed the books, read them, and loved them so much that she bought her own set. Men who have read her books appreciate her attention to detail especially in the farming and building, and they enjoyed the description of driving the mule teams in Blooming Prairie. I also found that part fascinating.
If you have a dream, one that comes to you in the night or is born in your heart, believe in it. Work towards it and never give up. Only you can tell the story that speaks to you.
If you'd like to have your name in a drawing to win the first book in Candace's series, Abercrombie Trail, please leave a comment with your email address here, or if you're a friend on facebook, leave a comment there, or if you're having a heckuva time leaving a comment, email me at mary.aalgaard@yahoo.com.  I'll have these two little darlin's draw the winning names. Since there's two of them, there will be two winners. Contest closes at noon, Central Daylight Time, on Sunday, Oct. 28, 2012, open to international readers. Winners announced on Monday morning.
Can't you just hear them calling each other "Sistermine" like the sisters do in Candace's books?
Candace's books can be bought locally at:
Turtle Town books in Nisswa,
The Crossing Arts gift shop in the Franklin Arts Building in Brainerd,
Bookin' It in Little Falls,
Support your local bookstores whenever you can, or they might disappear.
You can learn more about Candace Simar and her Abercrombie Trail Series on her website.  She has a couple new, exciting projects in the works. Farm Girls, a collection of essays and poems that she's writing with her sister Angela Foster, about growing up on a dairy farm in Ottertail County.  She is starting the research on her next series about Bonanza farms in the Red River Valley (my home area) and expects at least one of the children in the Abercrombie Trail series to help tell this story. And, she is working on a collection of short stories set in a Minnesota township in 1946. They all sound great! Thanks for sharing your stories on my blog today, Candace!
And, remember your dreams.
Journaling Prompt:  Write about a vivid dream.