Quote of the Day:  How was it we were so lucky? Something else I keep seeing in my dreams, all those queues, all those queues of desperate people outside the Consulates in Marseilles. Waiting all day and then turned away. Why didn't that happen to us? I mean, what's so special about writers? Heinrich Mann, act 2, scene 9, in Tales from Hollywood by Christopher Hampton.

May 10, 1933, Joseph Goebbels, Nazi minister of propaganda, attends book burnings at the University of Berlin. Book burnings in other university cities follow. Works by Thomas Mann, Heinrich Mann, and Bertolt Brecht are among those burned. from the program about Tales from Hollywood.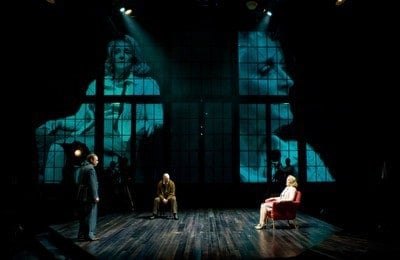 For every person in nearly every part of the world who lived and fought to survive during World War II, they have a story to tell. Christopher Hampton draws from his own experiences as a non-American writer in Hollywood  in the 1960's-70's to go inside the hearts and heads of famous writers of the 1930's and 1940's and bring to light the struggle to survive as exiles, men without a country, needing to use their language to create, to connect, and to offer hope, and yet feeling so hopeless as they are silenced and sent away.

What is so special about writers? Their work is burned and banned. They're stripped of dignity and home and made to live like refugees, and yet, they survive, even thrive. The very act of trying to destroy their work and crush their spirits only adds interest and meaning to their words. People both admire and fear writers and the power of their words.

In Tales from Hollywood the exiled writers who fled Nazi Germany form a community in Los Angelos. They're trying to write in a foreign country using a foreign language with foreign ideals and concepts. And, all the while they're trying to make sense of this cruel world and eek out an existence. Bertolt Brecht questions why he is writing for the screen when he is a playwright in a medium where there is no interaction with the audience. In an interesting use of light and sound, the creative team at The Guthrie projects scenes from the play onto screens as the backdrop. So, here we have a play with elements of cinema. (See photo above as an example.) Camera crew were placed in pivotal points of the stage as part of the show. It was like watching a documentary being made with Odon von Horvath as the narrator.

I connected most with the American female playwright, Helen Schwartz (played by Julia Coffey), who is Jewish and has relatives in Germany. At first, she seems distant from what is happening in Europe, but as her relationship deepens with Odon, she learns more and tries to make a difference. She is independent and successful.

The most tragic character, though, is Nelly Mann, married to Heinrich Mann. She struggles with her identity and her relationship with her husband. Maybe she used him, or they used each other, to get out of Germany. Maybe their relationship was more friendship than romance. Maybe Nelly had so many demons that she couldn't live in the light. Allison Daugherty plays Nelly with style and courage. I was mesmorized by her portrayal of this character who seems so broken. Daugherty gives us a glimpse of how complicated Nelly's story is and how her soul is so filled with demons. I give her a personal standing ovation.

Ethan McSweeny has directed an outstanding show that is full of humor, surprises, and fantastic visual and sound elements. The Biker Chef accompanied me to this production. He said he connected with the show because of his personal history of German heritage and interest in military and stories of World War II. He said he'd recommend it to friends. It's a show that makes you laugh, ponder, hold your breath at moments of surprise or worry, and sigh. It contains adult themes, nudity, strong language, smoking, use of strobe lights, and is recommended for a mature audience.

Go to Tales from Hollywood page at The Guthrie Theater for more photos and video clips. It is playing at the Wurtele Thrust stage through October 27, 2012.

Go. Create. Inspire!

Journaling Prompt:  Have you ever felt silenced by a person or institution? Do you read banned books?