Quote of the Day: "I see. The case of the poisoned spatula," Francie said. Man, why hadn't she had lines like these in her show? "Don't you ever watch crime shows?" she asked. "The person left holding the murder weapon is never the one who actually did it." from Enchantment Lake Mari Preus.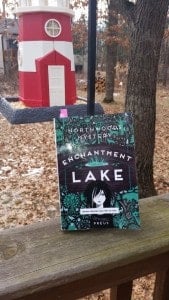 I had the privilege of receiving an Advanced Reader Copy (ARC) of Mari Preus' latest novel, Enchantment Lake, A Northwoods Mystery, the first in a new series. The setting could easily be in my backyard, so to speak, as I live in the lakes country of central Minnesota. Although her setting feels a bit more towards the Duluth area and north of there, a part of the country that still has a few places where cell phone service is sketchy, and the natural landscape hasn't been totally developed. In Enchantment Lake Francie, a 17-year-old budding actress, is summoned to her childhood playland, Enchantment Lake, by her crazy old aunts. "Someone is trying to murder us," they say, and hang up the phone, leaving Franchie hanging, and worrying, and jumping the next flight back to Minnesota, ditching her audition in New York City. The story clips along nicely as Francie, who isn't really a detective, she only plays one on TV, sorts out the clues to the puzzle of mysterious deaths, and the controversy over paving a road to the outlying cabins on her aunts' side of the lake. Are they really as innocent as they claim? Who is digging in the middle of the night? What's happening on the island? Is the realtor as shifty as he seems? And, why can't she get honest answers about her own parents' deaths?
Margi Preus has created a colorful cast of characters that add both whimsical humor and dark motive. The action
clips along, and you root for Francie who seems to be alone in solving the current crimes and the mystery of her own life. I had moments of, "This is like Scooby Doo," where you feel like someone is creating a spooky environment to keep outsiders away. I half expected the criminal in the end to say, "I'd have gotten away with it, too, if it weren't for you meddling kids." And, Margi has a definite nod to Nancy Drew with the "Clue of the poisoned spatula," line. I kept thinking of my 10-year-old piano/theatre student who just loves a good book with plenty of darkness and intrigue, and death. I'll be handing it to her next week at piano lessons. I could also see older teens, especially those who aren't as strong readers, picking this one up, because the story flows so nicely, it's about 200 pages long, and the characters are also teens, or adults. This book is a delightful story for readers of all ages who like mysteries, varied and colorful characters, outdoor settings, humor, and a little death for good measure.
Margi Preus is a New York Times-best-selling author of books for young readers, including Shadow on the Mountain, West of the Moon and Heart of the Samurai, winner of a Newbery Honor and the Asian/Pacific American Award for Children's Literature. She has loved mysteries since she was allowed to stay up past her bedtime to watch Perry Mason with her dad. (from the book cover) I met Margi at a Young Author's Conference where she shared stories and ideas for writing and working with kids in theatre. Margi expects a March 1 release date for Enchantment Lake. She's currently working on the second book in the series and expects them to span the seasons that create very different landscapes here in the North Country.  I can't wait to read another Northwoods Mystery and see how Francie solves them!
Go. Create. Inspire!
Journaling Prompt:  Do you have a reading buddy like my cat Leo? Where is your favorite spot to curl up with a good book? Have you ever walked or driven a car on a frozen lake like we do here in the North Country?