The first week of August is full of activities even during the Time of Covid-19. I've had my adult sons visiting. We have live, outdoor, theater happening in the Brainerd lakes area (The Marvelous Wonderettes, I saw it twice). The Lakes Area Music Fest, which usually performs live for about a month in our area, is streaming classical music performances (I'll have to catch up with their shows later this month). And, the weather is gorgeous. That said, I had two small windows of opportunity to watch MN Fringe shows recorded on Digital Hub, and I choose two shorter, but excellent, ones!
Right after lunch, I watched A Circus Show by We Flip Entertainment. They recorded a show that they had done at Valley Fair. Two men do a balancing act with planks, chairs, and their own bodies. They are so strong and focused. You can't look away! (Luckily, I wasn't trying to eat lunch while watching them.) I caught myself holding my breath and putting my hands to my face in worry – even though I knew it was recorded! Great camera work and exciting music enhance the experience. It would be breath-taking to watch  them live! Fun for the whole family! 25 minutes – and don't forget to breathe! 
While I was waiting for my dinner to heat up, I caught one of the gems of Fringe Fest, Paul & Erika's House Show. It was funny, sweet, silly, musical, whimsical, thoughtful, and clever. It's a reflection on the times, the separation, the feeling of being cooped up in your own space, and the need to still connect. They talk to us and invite us in, examining what it means to do a "House" show. Who's house are we in? Ours? Yours? And, is it technically a house when we live in an apartment? Where are you watching us? From your couch? In the bathroom? In the kitchen while cooking dinner? Who knows? They use word screens (like in the silent movies). They talk to us. They sing. They do storytelling through songs (Woody Guthrie style). They ask us to get a plate. Since I was preparing dinner, I watched the show with my dinner plate. What does your plate say about you? They stream through Vimeo, which I've found, does not connect well to my TV, so I watched it on my laptop. They would love a donation (please support your artists). The creators are Paul Strickland and Erika Kate MacDonald. From their press release, their show is "A highly entertaining love letter to live audiences everywhere." You can learn more about this traveling entertainment team, who are stuck at home, on their website Theatre Mobile. Highly recommended. Family Friendly. I think I might watch it again…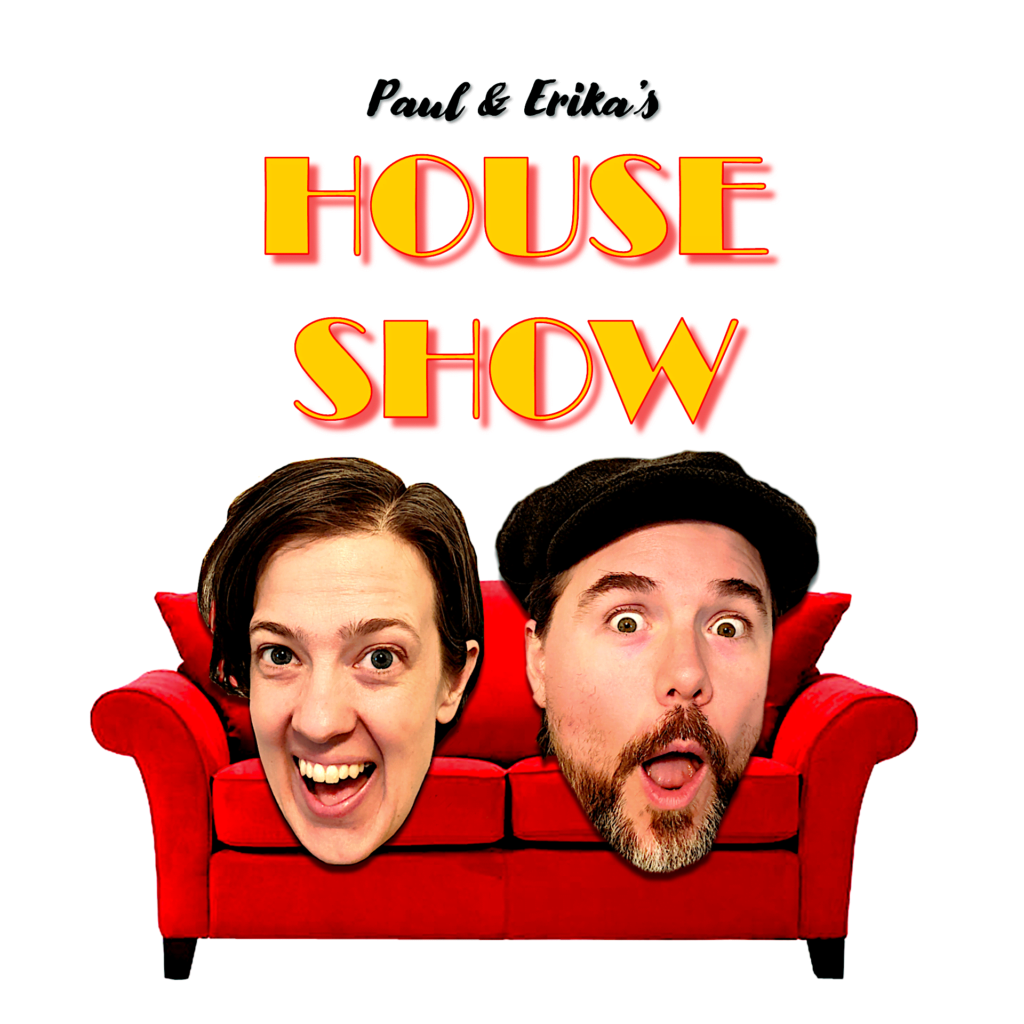 The House Show is easily in the top three Fringe shows that I've seen so far. They originally recorded it for the Cincinnati Fringe Festival, where their shows have sold out in the years of live and in person performances. I hope they can travel to Minneapolis in the near future!
You can check out other reviews of MN Fringe Festival, virtually, 2020, on the Twin Cities Theater Bloggers Facebook page, Rob from The Stages of MN, and long time Fringe reviewers Matthew from Single White Fringe Geek, and Jill from Cherry and Spoon. 
Go. Create. Inspire!