Quote of the Day:  I have a dream, and I gave it a name, and the name that I gave it was your name. – James Keelaghan, lyrics from the song he used for the audience participation part of his concert. It set me to dreaming.
James Keelaghan is a singer/songwriter from Winnipeg, Canada, with roots in Calgary.  His folk songs are often historical ballads, rich in story, soothing in tone. His guitar is part of him, which he plays masterfully and musically. I'm pulled into the song with the first chord. He kept tweaking and tuning it throughout the concert and explained that with his extensive travel, his guitar was suffering from "tune-lag."
In fact, Keelaghan sprinkled humor throughout the show, which is good because many of the subjects of his songs are dark – death, tragedy, loss.  He shared stories of people and places he's been.  And, that's what I love – the stories.  He has a story about where he got his inpiration for a song. The song itself is a story, and how the song goes out into the world and takes on a life of its own, is a story.  Hillcrest Mine is a tribute to 189 men and boys who died in a mining accident near his hometown, long before he was born. (I don't remember what year he said it happened.) One of his most famous songs, Kiri's Piano, is about the Japanese internment camps in Canada during WWII. (I thought it was just us paranoid Americans who did that. But, our neighbors to the North were just as afraid.) This song then became part of a family's story and they shared it with him – about a young man, a miniature guitar, Pearl Harbor, 1941, a sunken ship, a dead serviceman, and a gift.  You'll need to attend one of Keelaghan's concert to get the full details. I wouldn't be able to do the story justice from a one time hearing.
Which brings me to the main reason I was at this concert in the first place. It took place in a new kind of church building called Live Well, also a Nightclub and Coffee Bar. My friend and I were up for some local entertainment. We'd walked into a bar that smelled like beer and popcorn with way too many guys oogling us. So, we went to the town's best pizza place then headed over to the concert. We left our dollar in the basket and helped ourselves to a sparkling water, lime flavored, and settled into the rocking chairs.  Yep, this church has a variety of seating, including loveseats, couches, and soft chairs. I sat down, kicked off my clogs, put my feet up on the automan and commensed to giggling. What a hoot! I've never been so relaxed at a concert.
I'd spent the previous day baking a variety of goodies to bring to a funeral, which I'd worked at all morning. It was good fellowship, a celebration of the life of a wonderful woman who was dearly loved by her family and communities where she lived, taught, and worked to make this a better world. Evelyn was 93.
So, when I got to the concert, I was tired. I felt relaxed in my rocking chair and soothed by the music.
Thanks, James Keelaghan, for coming to little Nisswa, MN for their Grassroots concert series. Thanks for your gift of music, writing, and storytelling. As he said, "That's why I write. Because we need to share our stories." I gave an "Amen." He certainly made a connection with me.
Mary relaxing at a folk concert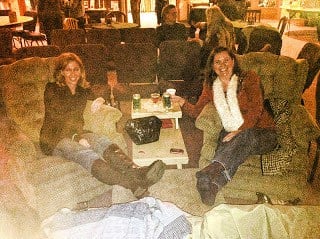 Photo by Joey Halvorson who didn't have her nice camera with her, but happened to be sitting behind me at the concert. (I thought I felt a nudge from back there.)
So, she took the pic from Wadeen's phone, who sent it to Joey, who emailed it to me, where I saved it to my computer, and pasted it onto my blog, so that you could see what a wonderful and relaxing time I had on Friday night.
I think this shot captures the mystical feel of the evening.
Go. Create. Inspire! And, attend live shows. They are so worth it!!
For more shows at the Grassroots Concert series in Nisswa, MN, click here.
Next stop for James Keelaghan, the United Kingdom. Perhaps, he's bringing a bit of our Minnesota spirit with him. Seems like his guitar is handling the "tune-lag" just fine.
Journaling Prompt:  What is the story behind a song, or group, that you like?