Quote of the Day: It is important to tell your story…and own your story. Sheila Chin-Morris, daughter of Harry Chin, whose story, and hers, she shared with playwright Jessica Huang in The Paper Dreams of Harry Chin, on stage now at the History Theatre in St. Paul, MN, through April 9, 2017. It is a story that is haunting, heart-wrenching, and human. It's the story you didn't read about in your HS history textbook. "It's easy to think about the multitudes and forget about the individual stories," said Morris in the post-play discussion. 
I absolutely love going to the History Theatre in St. Paul, MN. Not only do you get quality entertainment, but you also learn something along the way. Something more about who you are, where you came from, and the people who live in your community, whether it's right there in St. Paul, in the lakes area where I live, or in the greater country and world. People live complex lives, some more than others.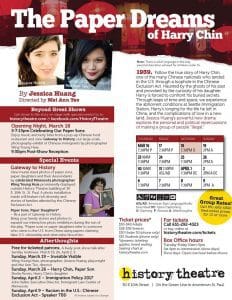 The Paper Dreams of Harry Chin gives us a look into Chinese Immigration, the Chinese Exclusion Act of 1882, Chinese culture, the blending of it and the New World, and the life of one family here in Minnesota. I might have heard about the Chinese Exclusion Act before, but didn't know much about it until I saw Flower Drum Song performed at Park Square Theatre, Fall 2016. That is a beautiful musical about Chinese immigrants, their story of trying to keep part of their own culture while learning to live and survive in a new one. There, they had posters up about Chinese Immigration and advertising for The Paper Dreams play at the History Theatre. It was definitely on my radar of shows to view and review, even more so after I read the review by another Twin Cities Theater Blogger, Gina at The Room Where It Happens. 
The Chinese Exclusion Act targeted a specific race of people. They were barred from coming to the USA, and if they were here already, they were denied citizenship, and as a result, good jobs even when they had college or graduate degrees. If they were to leave the USA to visit family or attend to business in China, they might not be let back in. In Paper Dreams, Harry Chin enters the USA as a "Paper Son." Basically, he has bought the identity of someone else, someone who has the right family name, connections already established in the USA, and therefore, the right to enter. He gives up so much to start a new life. He gives up his country, his identity, his Chinese wife and child, and all other family ties. He assumes a new identity and begins his new life. He meets someone who is European-American, born in the USA, falls in love, and has a new wife, daughter, life, and conflicts. Harry is visited by ghosts of his past as he tries to deal with his relationship with his daughter and the absence of his American wife. I don't want to give any spoilers, so I'll stop there. 
Song Kim's portrayal of Harry Chin is award-winning. He has my nomination for the Twin Cities Theater Bloggers' Favorites Awards for 2017. I can only imagine how exhausting it must be for Song Kim to portray Harry Chin and all his complexities and emotional range. He speaks practically perfect English when he's "speaking Chinese." He uses broken English at other times. He sees and speaks to ghosts, then reacts to people who are "really there." It was fascinating.
Wu Chen Khoo did a stunning job with Lighting Design,and video design by Kathy Maxwell. They used projections, shadows, spotlights, and much more to provide the atmosphere for this production. Amazing set design by Joel Sass and Sound by Katharine Horowitz all added to the understanding and telling of this important story. 
I applaud Jessica Huang for writing this wonderful script, and Mei Ann Teo for her expert direction, attending to so many details. I wish I could go back and watch it again to see and learn more! Attending The Paper Dreams of Harry Chin at the History Theatre was well worth my drive to St. Paul, made even better by picking up a dear friend and getting her out of the house for a while. 
The Paper Dreams of Harry Chin is playing at the History Theatre in St. Paul, MN through April 9, 2017.
Journaling Prompt: Do all families have secrets? Are you willing to share yours? Write it down somewhere, or tell your most trusted family or friends? Is it time to be more open about your story? Do you know anyone who changed their name when they became US citizens?
While conducting a session I've named "Excavating Stories" at a nearby senior living center, I learned that several of the residents had family who came over from Norway. Both had to change their names, making them more Anglicized, because "Norwegians were looked down on." Some people with German names also changed them during the wars with Germany.