Quote of the Day: I wanted Belle to be more powerful…in charge of her own destiny…which she was. says Emma Watson, on playing Belle in the new live action film Beauty and the Beast. 
Before my sister Joy played Belle in a community theater, stage adaptation, of the Disney hit Beauty and the Beast, I hadn't really paid that much attention to the story. I didn't like that it was about a woman imprisoned by a man/beast, and she has to win his love in order to be free. However, watching the story unfold, taught me so much more about the plot line. Belle actually chooses to stay with the Beast to save her father. The village turns on him because they think he's crazy. She stands her ground against the Beast, accepting her fate to live in his gloomy castle, but not accepting that he controls her. He doesn't. When he allows her to leave to save her father, he makes the boldest move, knowing she might never return. In the end she saves him, its her genuine love, freely given, that sets him free from his curse. I ended up really liking the stage adaptation, both in my sister's community theater production, GLAPA, and when I saw it at the Chanhassen Dinner Theatres.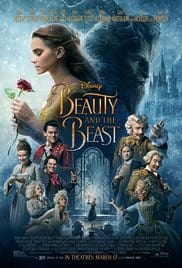 I saw the live action movie with my girlfriend and her twin daughters. We were all riveted to the screen. It is a beautiful film. You have the option to see it in 3D, but we did not. There are a couple scenes, especially in the castle, and decorating the dress, that are clearly for 3D viewing, but the rest is just normal. In fact, I don't really care for 3D. It's for the Birds. Literally, I think it would have been cool to see the Hitchcock film, The Birds, in 3D, a bit terrifying to have those birds flying out at you in the theater, but cool, none the less. 
Of course, they had to make a few changes to the live action film, but overall it's the same story, with all the characters you love and hate. They add a little bit of back story for Belle and the Beast, which I liked. They didn't sing "Human Again," which I didn't like, because it's one of my favorite songs. They added a few songs that were nice, but they changed the Beast's solo after Belle leaves. 
Beauty and the Beast is a gorgeous movie. Emma Watson is an adorable Belle. Kevin Kline is kind, nutty, and loving as Maurice, her father. Luke Evans is a terrific Gaston, all the braun and no brains. Josh Gad is fun as LeFou. Dan Stevens gives the Beast the right amount of gruff to go with his wounded gentler side. It's an extensive cast. I'm not getting into each character, but they were all great. I particularly liked the staging of the song Be our Guest, and the fight scene between the villagers and the household objects. I giggled when the piano played Chopin's Funeral March when he had one of the villagers pinned.  The girls loved it. I imagine it will be one of those movies that they watch over and over once it comes out on dvd. I was grateful for a girls' day out where we could watch a movie that we all enjoyed.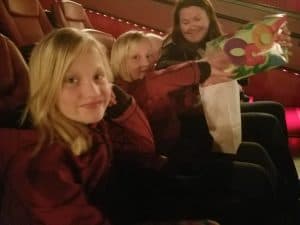 Go. Create. Inspire!
Journaling Prompt: Have you seen the new movie? Are you a purist when it comes to adaptations? What's the last movie you saw with friends or family?