Quote of the Day: It's the want of something that makes you feel the Blues. Janis Joplin.
Isn't this just how you picture the legendary singer, Janis Joplin, on stage, microphone held firmly in her hand, the other arm stretched out and open, and hair flying all around her? That's just how Mary Bridget Davies looks when she's performing Janis. She has been doing Janis for a couple decades already, having been asked to front for Big Brother and the Holding Company, Janis' band, early in her career. Mary Bridget Davies was also the 2014 Tony Award nominee for playing this role. It is a rockin' good time. Four other female singers share the stage with her to present this show and represent the other ladies who sang the Blues from her era: Chantel, Odetta, Bessie Smith, Etta James, Aretha Frankin, and Nina Simone, played and sung by Cicily Daniels, Tawny Dolley, Q. Smith, and Jennifer Leigh Warren. Five Fabulous Female singers on one stage created a powerful concert feel with story interwoven. Wow. We had moments of goosebumps, wild cheering, and quiet self-reflection as Janis (through Mary Davies) poured out her soul to us. And, yes, a few times where the audience rose to their feet to dance, cheer, and clap along. (Apologies to artistic director James A. Rocco who was sitting right behind me! I hope you had as much fun at the concert/performance as I did.)
I brought The Biker Chef with me to this concert-like performance. He was just a wee lad when Janis was performing, and says he would have gone to her concerts if he had been older, or she had lived longer. She died a tragic death at age 27 due to a drug overdose. She was a creative and troubled spirit. She was coming into her prime as I was being born into this world, and just as I was learning to walk and talk, she left it. I learned last night that she wanted to be an artist. She was thrilled when a local shop displayed her artwork and sold it for her. She went to college for a little while, but realized she wanted to be a musician. She lived in that experimental time and place where both genius and angst reside. She broke rules and stereotypes. She rose to greatness at a young age and crashed and burned just as quickly. She is and was a beloved star that still shines through her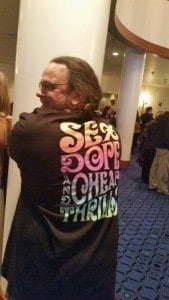 music. The Biker Chef said the show was "aweseome," and bought the t-shirt. I got the CD, cast recording. We'll be reliving our Night with Janis Joplin in our minds and on our stereo.
A Night with Janis Joplin is a National Touring Show through Iconic Entertainment Studios. It's playing at the Ordway Performing Arts Center in St. Paul, MN through April 3, 2016. Go to A Night with Janis Joplin website for future venues. It's touring through the end of April. 
Go. Create. Inspire!
Journaling Prompt: Are you a Janis Joplin fan? Do you romanticize the music scene of the late 60's and 70's? It was a time of breaking free, finding your own voice, creating and living high.