Quote of the Day: I don't think any day is worth living without thinking about you're going to eat next at all times. Nora Ephron, and I look out the window and I see the lights and the skyline and the people on the street rushing around looking for action, love, and the world's greatest chocolate chip cookie, and my heart does a little dance. Here's a dozen for you, Nora Ephron!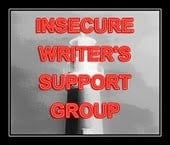 Here we are at the first Wednesday of the month, once again. This is when many, many bloggers who are members of the Insecure Writers Support Group post about their insecurities and offer support and encouragement to one another. If you'd like to read more posts on this subject, or join, please visit their website, or the site of the founder Alex J. Cavanaugh. 
I missed last month because my dad was having triple bypass surgery. Here is a picture of all his kids in the waiting room, hanging out with mom and being her support while we waited together.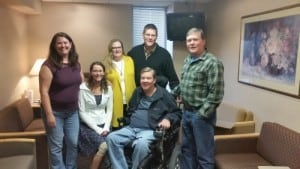 It's rare that all six of us are in the same place at the same time. Dad's recovering slowly. Your good vibes, thoughts, and prayers are appreciated.
The IWSG is holding a contest for a short story anthology. We could submit any type of story as long as it was alternate history or parallel universe. This is not my usual style. I didn't think I'd participate. I felt distracted and a little worried, and not sure what to do, so I baked chocolate chip cookies. While I was mixing and smelling all that sugar, and tasting a few cookies with a glass of milk, I remembered when I wrote a story for a Highlights contest called Roller-Coaster to the Moon. The odds are crazy to get selected by Highlights. Thousands of people enter, only three get selected. My story was not selected. I had fun writing the story, though, asking my boys for input (maybe I was baking cookies back then, too). That story is lost in the innards of my ancient computer, so I decided to rewrite the story using the same title. I worked on it for about a week, and decided "What the heck" and sent it in to the contest. It helped that one of my students is a writer, and she read the first two pages and said, "It ended?" meaning, she wanted to read the rest of the story, which meant I had to write it! I could have used a little more time to work the ending, but a deadline is a deadline.
If you're feeling insecure, and like "That's not my thing," maybe that's your cue to stretch your creative muscle and try a new genre or writing style. Picture your friends and family gathered in a waiting room to support you, and do your best to come through for them. And, if the creative juices just aren't flowing, try baking a batch of cookies. Your friends and family will enjoy those, too!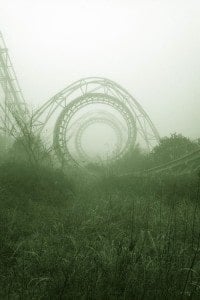 Picture that I found on Pinterest that sparked the memory of my roller-coaster story, and inspired me to write another one. Doesn't it look like it could be a roller-coaster to the moon?
Go. Create. Inspire!
Journaling Prompt:  What's your favorite cookie? And, who would you share them with?