Quote of the Day: Welcome home, welcome home, to the place you belong, to the place where you'll always be free. Welcome home, welcome home to the house of the Lord, come and join in the great jubilee. Chorus of the song Welcome Home by John Ylvisaker. We sing it every year when we start our week of family camp at Mount Carmel on Lake Carlos, near Alexandria, MN. 
Our connection to Mount Carmel starts with my mom who attended family week with her parents and brother in 1948. She worked on staff as a singing waitress in the 1950's, and in 1972 my parents decided that it was time to spend a week in their busy summer at camp with their family. I was four years old. I grew up coming here, and it does feel like a home away from home. When we were young, we hung out with cousins and made new friends. In our teen years, we often brought a friend along, and made new friends and hung out with cousins. My mom's parents were there a few years. I remember my dad's mom, Grandma Ida, being there at least one year. Somehow my folks packed up all six of us kids, our bags, and food for the whole week, into our station wagon and got us all there. Mom likes to tell the story of one time when we pulled up in front of the registrar's office. Two older "spinster" ladies (as she called them) were walking by and watched with wide eyes as all the kids kept clamoring out of the vehicle. One year, my younger sister Joy stepped on a bee right after getting out of the car and sat on the cooler and watched us unpack all the stuff. My brother James sliced his finger open with a whittling knife. Joy got left in the cabin when she was around three years old and found her way to the chapel. The teaching preacher opened the door behind him and held up the drenched child asking, "Who does this one belong to?" I was playing a game of Red Rover, Red Rover…send Mary right over, and thought it would be fun to break apart the arms of my sister Nancy and cousin Perry, only I was shorter than them and hit their linked arms just below the chin, did a flip, and got knocked out. I got to visit the emergency room. I went back to the same ER with my son Eric when he got stung by a wasp and started having a systemic reaction. I was called out of the morning teaching in the chapel just this week for the same kid who did a major head butt on his brother Zach and got a gash on his nose that took a long time to stop bleeding! 
Oh, the mishaps and memories of Mount Carmel. I kissed my first crush there (in the sauna). I built many a sand castle and water trench. When we were teenagers, dad brought a big, black inner tube and we spent hours playing on that thing, trying to stand on it, pushing each other off, until we were exhausted, sunburned and hungry. We snacked on Easy Cheese and crackers, then helped (or maybe not) mom make supper. I know mom worked very hard at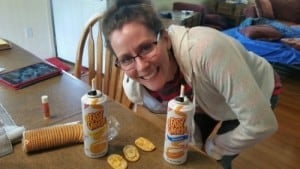 camp. She talked about it this week. I probably didn't show much appreciation then, but I sure am grateful now. My parents started a tradition that I carry out with my sons. Hey, my teenage sons still want to go to family camp with their mom! This place must have something special. And, it does. Yes, we do the church thing. The kids have Bible school and crafts in the mornings. The teenagers have discussion and games (not as many head banging ones after our incident), and they connect. They have a chance to sing, act, or play in the talent show, dance at the family dance, throw water balloons at the Water Carnival, and simply hang out with family, friends, counselors, and people who are good and kind and want both a peaceful and exciting time at this spiritual place.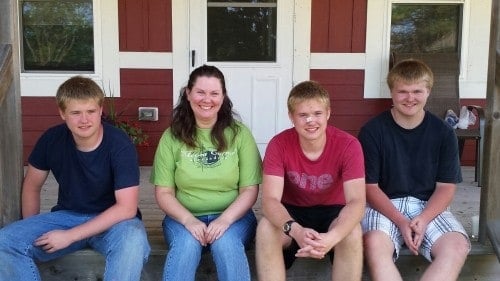 Each year when I pull the sheets off my bed at the end of the week, I feel the winds of a quickly flipping calendar, and the pang of time passing. Not even the placing of a new calendar on the wall in January gives me as strong a sense of time passing as the end of a week at Mount Carmel. Somehow, it is the shortest week of the year. I notice how much taller and grown up my boys are. Bobby doesn't go to camp with us anymore. He's in college and works, and he's a busy young adult. Zach will be a senior, and the twins aren't far behind him. My parents are aging and don't have the energy they used to have. I feel like I'm the bridge between their generation and my sons.
Thank you, God, for lighting the spark of this camp in the hearts of the people who built it in 1938. Thank you for connecting my Grandpa Siberg to people who came here and wanted to share it. Thank you for giving my parents the heart, and energy, to start bringing us here as a family, and thank you, from the bottom of my heart, that it is a place where I can bring my boys and have a great family time together.
I know we're not the only family who has experienced the love and fellowship at Mount Carmel. I look around during chapel and see grandkids (and not always the small ones) resting their heads on Grandpas and Grandmas. I see moms and dads taking the time to have fun and play with their youngsters. I see kids happy to spend a week with just mom, or with grandparents, or friends who might have brought them. It is a unique place where there is something for everyone. It is a place where we can all be happy at the same time, sometimes doing things together, sometimes separating and doing our own thing with our own age group. I still like swimming out to the floating dock at least once a year, lying on a blanket on the sand, or just visiting with friends or relatives. 
I hope you have a place like that somewhere.
Go. Create. Inspire!
Journaling Prompt: Where does your family like to spend time together?
I can't resist. I'll post a few more photos from a few years back.
These are from 2005.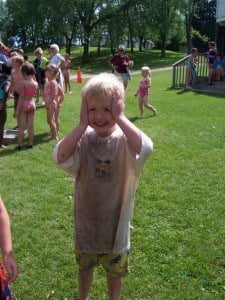 A few from 2011