On Sunday morning, July 12, The Biker Chef and I went out to admire our straw bale garden, and I took some pictures. I had been away for a week and didn't post any photos from the previous week. We had some nice growth. Some plants are really doing well.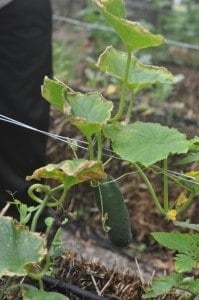 It was so humid that the lens of my camera was fogging up.
Nice looking cucumber already forming on these vines. We should also have plenty of pumpkins. The carrots look good, as do the peas and cabbage. The tall plant is potato. The pepper plants could use a little more TLC to get bigger and stronger.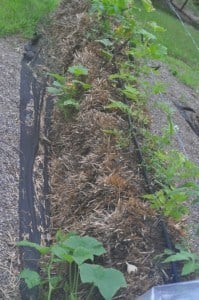 This is the tomato row on the end that is right under a large oak tree. You can see the stump of it's brother, in the above picture, that went down in last fall's big wind storm. By the end of the day, the unstable weather brewed up into a nasty storm. Sirens were going off. The winds were so strong. Some people thought we might be having a tornado. I hunkered down in the basement with my cat Leo and waited for the Biker Chef to come home. Turns out, he was trapped at work at the Grand View Lodge because so many trees and power lines had come down.
Some people had large oak trees and pines ripped up by their roots. It was as if Paul Bunyan had walked through and pulled them up with one strong hand like they were just little weeds. Countless trees are gone. Some of them hit houses and crushed cars. No lives were lost, thank God, but many people have days and weeks of clean-up ahead of them. We were lucky to just have this large branch fall on the garden. Even that damage is minimal and the Biker Chef got a new chain saw to cut it up. Later in the day on Monday, we went out to help friends near Pillager. Their power was knocked out (as it is for many people in the area), so we invited them in to take a shower at our house and the Chef whipped up a delicious meal for them: chips and pico, crab dip and crackers, chicken cacciatore, veggies with cheese sauce, his famous rice pilaf, and a peach cobble for dessert.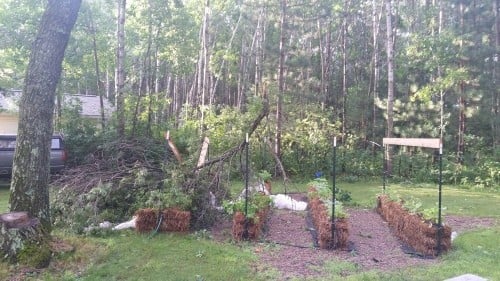 I took these pictures on Monday morning, the aftermath of the storm. Minor damage to my property.
Poor tomato plants got nailed.
Large trees were pulled up by the roots, but tiny saplings are still standing. This is Pillager Park. Several people had so much damage that they were "treed in." Two of my theater students couldn't make it to the first day of class. I saw on facebook pictures and requests for help. It is heartwarming to see neighbor helping neighbor, firing up the chainsaw or picking up branches. It smells like a wood working shed around here, lots of pine, some campfires are going. We'll have campfire wood a-plenty. Insurance adjusters are out in force inspecting, and tree removal service workers are busy. Also, any business who sells chainsaws are probably sold out. Mother Nature is an awesome force, indeed.