Quote of the Day:  Tonight we're going to turn The Ordway into an Irish pub! Eileen Ivers, performance on March 17, 2013 at The Ordway Performing Arts Center in St. Paul, MN. I felt like I was at an Irish wedding dance. Your heart sings. Your feet tap. Little kids run down to the dance floor in front of the stage. The melodies, both haunting and exciting, course through your veins.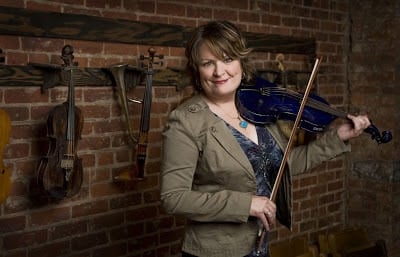 Eileen Ivers, promo photo from her website. Photo by Luke Ratray
The daughter of Irish immigrants, Eileen Ivers grew up in the culturally diverse neighborhood of the Bronx, New York. Rooted in Irish traditional music since the age of eight, Eileen proceeded to win nine All-Ireland fiddle championships, a tenth on tenor banjo and over 30 championship medals, making her one of the most awarded persons ever to compete in these prestigious competitions.
Being an Irish-American, the intrigue of learning more about the multicultural sounds of her childhood took hold. After graduating magna cum laude in Mathematics from Iona College and while continuing her post-graduate work in Mathematics, Eileen fully immersed herself in the different genres of music which she experienced growing up in New York. Perhaps it was the mathematical mind coupled with her passion for seeking parallels in certain traditional music styles which contributed to what has become the signature sound featured in much of Eileen's recordings since the late 1980's.
What a great way to celebrate St. Patrick's Day to be filled with the exhilarating music of Eileen Ivers, her fiddle, and her fabulous band! You can't sit still while listening to this music. Your heart beats a little faster and you have to at least tap a toe. I envied the kiddos who jumped up and dragged their friends and grandparents to the dance floor. Some of those young lads and lasses could really dance a jig and had all the fancy footwork. I'll admit, I was a little intimidated. When I pop on the CD at home, though, I wiggle a little and practice the moves I saw!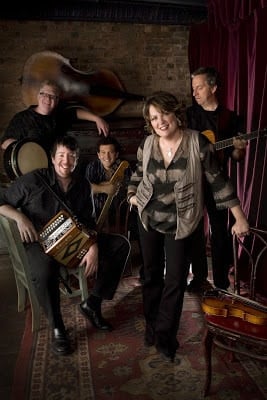 Eileen Ivers and Immigrant Soul Band, photo by Luke Ratray
You can "Youtube" anything these days. Listen to as much recorded music as you like, but nothing, NOTHING, replaces the experience of live music. The energy in the room was intoxicating. Eileen Ivers and her band really did turn The Ordway into an Irish pub. By the end of the show, the dance floor was filled and overflowing up the aisles and into the balcony. What a rush. What an awesome experience. What an energizing way to celebrate being Irish (anyone can feel a bit Irish on March 17), and cultures beyond the seas and right here at home.
Thank you, Ordway, for inviting Eileen Ivers and her band and all of us to have a night filled with festive fun! Check out Eileen Ivers' schedule on her website. I hope she's coming to your neighborhood. You won't want to miss out on this party!!!
Go to The Ordway for info on upcoming music, dances, and shows. They have a great line-up yet this year, and next year's schedule looks amazing. I'm particularly excited to see Miss Saigon this fall, 2013.
Journaling Prompt: What is your family's heritage? How do you celebrate your own culture and other cultures in your neighborhood?