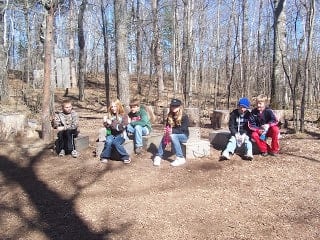 Quote of the Day:  Hope and the future for me are not in lawns and cultivated fields, not in towns and cities, but in the impervious and quaking swamps.
From the essay "Walking" by Henry David Thoreau




I went on an overnight fieldtrip with my two 4th graders and their classmates.  We were approximately 4 teachers, 90 (or so) students, 45 chaperones including Moms AND Dads and a few Grandpas.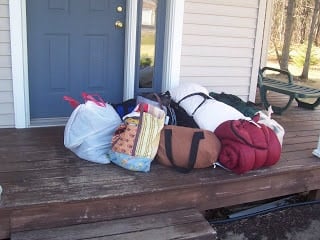 Here's what we needed for two days and one night. (I left the kitchen sink at home.)
We played team-building and problem-solving games with great instructors.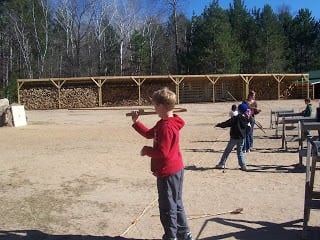 Learned how to used weapons and tools from long ago.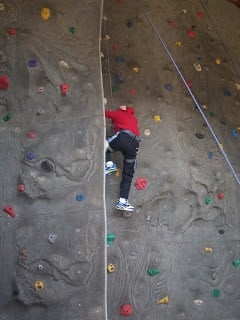 Tested our strength and bravery on the climbing wall.  When the instructor unlocked this door, it was like we were walking into Willie Wonka's World of Wonder and Delight.  The kids' eyes sparkled.  I saw pure joy.
Hiked to the top of a hill, then walked up all these steps to a lookout.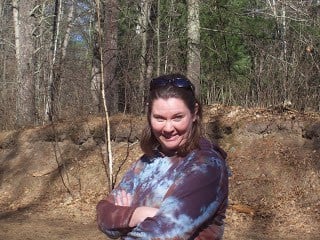 Except for me.  I have acute acrophobia.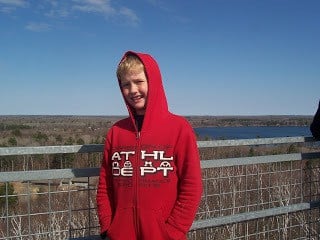 My boy made it to the top.  His twin brother was up there with a different group.  Thanks for the pics, boys!
Thanks to the great teachers who made this possible.  I am so grateful that they encouraged me to accompany my boys on this fieldtrip.  I was a little worried about the overnight part.  I need my rest.  But, the kids were great.  Most of them slept pretty well.  I was in charge of tucking in a group of girls.  So, naturally, I brought along a few good books.  We read Click, Clack, Moo, Cows that Type by Doreen Cronin, The True Story of the 3 Little Pigs by A. Wolf (Jon Scieszka), and The Sneetches by Dr. Seuss.  I pulled out our favorites, but do you know what they asked for when I knocked on the door?  One that I'd written.  I've shared a few of my short stories for kids with them through their years of elementary school with my boys.  They told me that those were the ones they liked the best.  (That was totally worth any loss of sleep and sore muscles from hiking.)  Thanks, Girls!
Fourth graders, teachers, parents, and instructors, You're all Rock Stars to me!
Journaling Prompt: 

Describe a fieldtrip experience.  There are ones that went great, and then there are the ones that produce good stories that we laugh about years later…