Quote of the Day: Music wasn't made for color, nor were words. Dr. Larabee explaining that music, words, art are for anyone, and it doesn't matter what your cultural background, in Akeelah and the Bee, playing now at The Children's Theatre Company in Minneapolis, MN through October 11, 2015. And, it is B R I L L I A N T
brilliant. The Children's Theatre Company commissioned playwright Cheryl West to write a stage adaptation of the 2006 film. She makes a few changes to the script, the most notable is that it is set in Chicago instead of L.A. like in the movie. Wright explains in an interview printed in the program for this production: Chicago is a very vertical city, full of apartment buildings where people live in close proximity to each other. It's congested, clamourous, and chaotic…Akeelah…doesn't feel safe. Like Akeelah, West felt that chaos, but also the love and care of adults surrounding her. Neighbors, teachers, mentors who said through their actions and their care, "I see you." It takes a village to raise up a child. Being a good speller isn't enough to get you to the Scripp's National Spelling Bee, you need your team to cheer you on, to build you up, to teach and encourage. Sometimes, they let you down. Sometimes, you let yourself down. And, yet, there is a still, small voice saying, "You can do it," and if you listen, you might hear it from others as well.  
The entire production team for Akeelah and the Bee did an outstanding job of bringing this story to life on the stage. All the actors are wonderful, putting all their energy and emotion into their complex characters. Set Designer, Alexander V. Nichols, has created a spectacular set of rotating "pillars" that at one angle appear to be an apartment building. Then, with a turn, they are the inside of Dr. Larabee's home, the walls becoming an extensive library. With another twist and change of lighting, you are in another place like the school, or the national spelling bee. They also do a "live" camera scene during the Bee.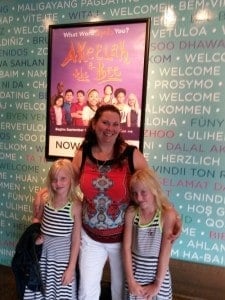 The story of Akeelah and the Bee is inspiring and heart-warming, just the type of story that is told best on the stage of the Children's Theatre Company in Minneapolis. They know how to portray real emotions that both children and adults can relate to. This is a play for anyone ages 8 and older, and you don't have to bring a kid to enjoy it! I attended the show with my friend Krista and her 8-year-old twin daughters. We arrived early and enjoyed a meal at our favorite Mexican restaurant just a couple blocks away, looked at some art at the MIA, and celebrated my birthday!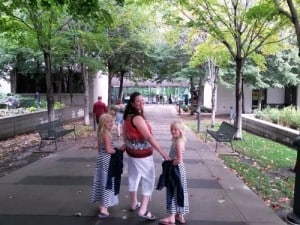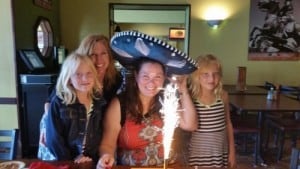 This world premiere runs in Minneapolis from September 1 – October 11, 2015 before moving to Arena Stage in Washington D.C., November 13 – December 27, 2015.  As part of CTC's commitment to programming for ages two through eighteen, Akeelah and the Bee is recommended for grades 3+. For more information, visit us online at childrenstheatre.org or call the Ticket Office at
612.874.0400. Media Partner KSTP-TV.
Go. Create. Inspire!
Journaling Prompt: Have you ever participated in a spelling bee? Did you win? What are your academic strengths?