Quote of the Day:  I want to live each day like it's a grand adventure. Princess Anne in Roman Holiday, playing through August 19, at the Guthrie Theater in Minneapolis.
Princess Anne is the poor, pretty princess whose life is all schedule and obligation and no room for fun. She's on a tour of Europe where she's told where to go, whom she shall meet, what to wear, and how to dress. She looks out the window at the bustling city and hears the songs of real people living, dreaming, and falling in love. Princess Anne doesn't want to experience Rome as untouchable royalty. She wants to be a real girl. So, she slips out in the dark of night, changes her clothes, enters a nightclub and gets carried away by a handsome musician looking for a story.
You'd be so easy to love.
She traded her perfect princess heels for a sassy new pair of sandals, and her soul (or soles) was ready for adventure. Once he got her on the back of the motorbike, I knew she was a goner.
She meets real life people who sing, dance, flirt, and swing their hips. The voluptuous Francesca, played by Christina Baldwin, steals the show in her fabulous costumes, showgirl numbers, and command of the men (and stage). She warns "Anya" that Most Gentlemen Don't Like Love.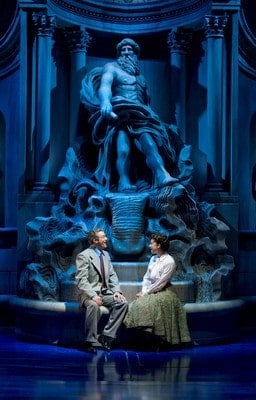 When you've embarked on a Roman(tic) Holiday, warnings be damned. The city of love with it's sites and sounds, and wishes in the fountain, shows no mercy even on an unlikely pair such as these. I believe I heard a collective sigh from the audience as Joe plucked out the notes to Night and Day and sang of his devotion to a princess who dropped into his life for one glorious day.
I am amazed, once again, at the Guthrie's talented costumers, choreographers, set designers, and performers. Roman Holiday has a huge cast with many big numbers, good old-fashioned musical theatre that sets your toe tapping and provides stunning visual images. The dancers have some fun comic scenes and gorgeous moves.
Roman Holiday is an excellent summer show. Grab your girl, or guy, jump on your bike, and ride on down to the Guthrie to experience the songs of Cole Porter, the images of Rome, and the thrill of a live performance.
Journaling Prompt:  Where would you go for a romantic get away?
Edward Watts (Joe Bradley) and Stephanie Rothenberg (Princess Anne) in the Guthrie Theater's production of ROMAN HOLIDAY, book by Paul Blake, music and lyrics by Cole Porter. Directed by John Miller-Stephany, set design by Todd Rosenthal, costume design by Mathew J. LeFebvre and lighting design by Donald Holder. June 9, 2012 – August 19, 2012 on the McGuire Proscenium Stage at the Guthrie Theater, Minneapolis. Photos by Michael Brosilow