Quote of the Day: The lore has not died out of the world, and you will still find people who believe that soup will cure any hurt or illness and is no bad thing to have for the funeral either. John Steinbeck, East of Eden.
Writing is a lot like making soup. My subconscious cooks the idea, but I have to sit down at the computer to pour it out. Robin Wells.
It feels like Winter has come early to Minnesota. We've already had snow. The wind has been nasty and cold, and we've rarely seen the sun. Soup was on my mind, so I looked up a few recipes online last Sunday and made the most delicious Curry Butternut Squash Soup! I used to live with a Chef who is a phenomenal cook, and his soups were the best. It was time for me to learn how to make soup on my own, and I'm proud to say it turned out great!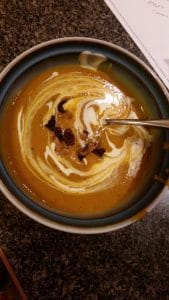 I made a few modifications. (I learned a thing or two from observing said Chef.) Claire's Curried Butternut Squash Soup from Allrecipes. I roasted the Butternut Squash ahead of time. I used butter to saute' the onions. I added nutmeg and cinnamon for spice. I loved the curry and turmeric in the recipe, but it was a little strong for me when I tasted it, so I added a splash of apple juice. I used an ancient blender to puree it, and it turned out divine. I garnished the soup with Mexican Creme' and pomegranate and walnuts, and sprinkled toasted almonds with sea salt on it. The food writer from the Star Tribune (Minneapolis) says, the garnish makes a good soup great. I'd have to agree. I shared some with a friend, who is a wonderful cook and always posting her delicious meals. She gave it two thumbs up and asked for the recipe. As with anything in the arts, culinary or otherwise, make it your own. Add more, or less spices, garnish to make it pretty, or even more delicious, make it more vegetarian, or less, depending on how you like to eat. 
Warm soup cheers a person up on a cold day. It might not cure every ill, but it does make you feel better. Learning to do something new is priceless. My mantra for the new year: Prosperity, Independence, Strength, and Fluidity.
Go. Create. Inspire!
Journaling Prompt: And, share your favorite soup recipes!!!