Quote of the Day:  Go confidently in the direction of your dreams. Live the life you have imagined. Henry David Thoreau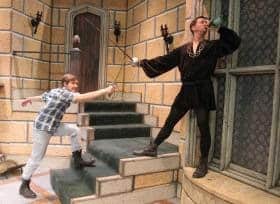 Andrew Rally (played by Mitchell Dallman, left) is handily defeated by the ghost of John Barrmore (played by Kevin Yeager) while sword fighting in a scene from the upcoming Central Lakes College play "I Hate Hamlet".
Erik Steen has directed a fine performance of Paul Rudnick's play "I Hate Hamlet" at our local community college, Central Lakes College. Kevin Yeager is in fine form, and tights, throughout the show. The younger man in the photo is a reluctant Hamlet. The ghost of John Barrymore (Yeager) comes back to haunt him into rising to the challenge, as well as a good old-fashioned sword fight. The fight scene was excellent. I think they had a visiting theatre artist come in to teach the boys how to do it (without serious injury). What fun!

It's a play about being in a play, the actors, the agents, the angst, and the audience. This play has it all: colorful characters (did I mention men in tights), comedic dialogue, physical action – comedy as well as sword play, and a great ending. It gets you thinking about why you do what you do, especially in the arts.

The set was amazing, designed by local set designer Tim Leagjeld. And, the costume had character all on their own, designed by Dawn Marks. "I Hate Hamlet" is part of the college production, and invites local talent to participate, making it a community event. Come out and support your local artists!

I Hate Hamlet is playing at Central Lakes College Chalberg Theatre, February 13-15 & 20-22, 7:30 pm. Call the box office, 218-855-8199, or go to their website.

Watching that show gave me the itch to do another play. (Note to self, schedule time to write!!!)

Go. Create. Inspire!

Journaling Prompt:  What inspires you to get busy on your art? Do you like "Hamlet"?