Quote of the Day: I've always found the upper class the same – fearless, truthful and sometimes extraordinarily foolish.
Put not your trust in princes or politicians, as the saying goes. Agatha Christie in The Secret of Chimneys. 
The longest running community theater in Minneapolis, Theatre in the Round Players, is in its 72nd season. For their fall mystery this year, they are doing the world premiere of The Secret of Chimney Manor, newly adapted for the stage by Todd Olson. It's based on the novel The Secret of Chimneys by Agatha Christie, first published June 1, 1925, and has come available in public domain. 
This is not your typical Christie. We have neither of her famous detectives, Poirot or Marple. Instead, we have a lesser known sleuth Superintendent Battle, who appears in five of Christie's novels. It's also more of a thriller with international espionage, princes, hidden identities, and characters of various backgrounds. It's actually a little hard to follow, but I've downloaded the audio book, which fills in some of the gaps. With so many characters, and some confusing double casting, it's easy to lead us (the audience) astray. I had no clue whodunnit until the reveal at the end. Still, it's entertaining and well acted, even if it's not one of my favorite Christie stories. It's hard to beat last year's sensational premiere of The Mysterious Affair at Styles, newly adapted by Kate Danley, which is one of my favorite adaptations of Christie's novels, her first novel and the one where she introduced the world to the brilliant Hercule Poirot. 
I'm always fascinated by how well they use the unique space at Theatre in the Round. It is truly "in the round," so it doesn't allow for much of a backdrop or set. Pieces are moved in and out by cast or stage hands. In this case, they used pillars to place things like a bed or a buffet table. One area has a wall with picture frames that created a cool theatrical effect later in the play. Set design by Madeline Achen. Director L. Robert Westeen makes good use of the space and has the actors facing the multiple directions, so no one feels like the picked "the wrong side."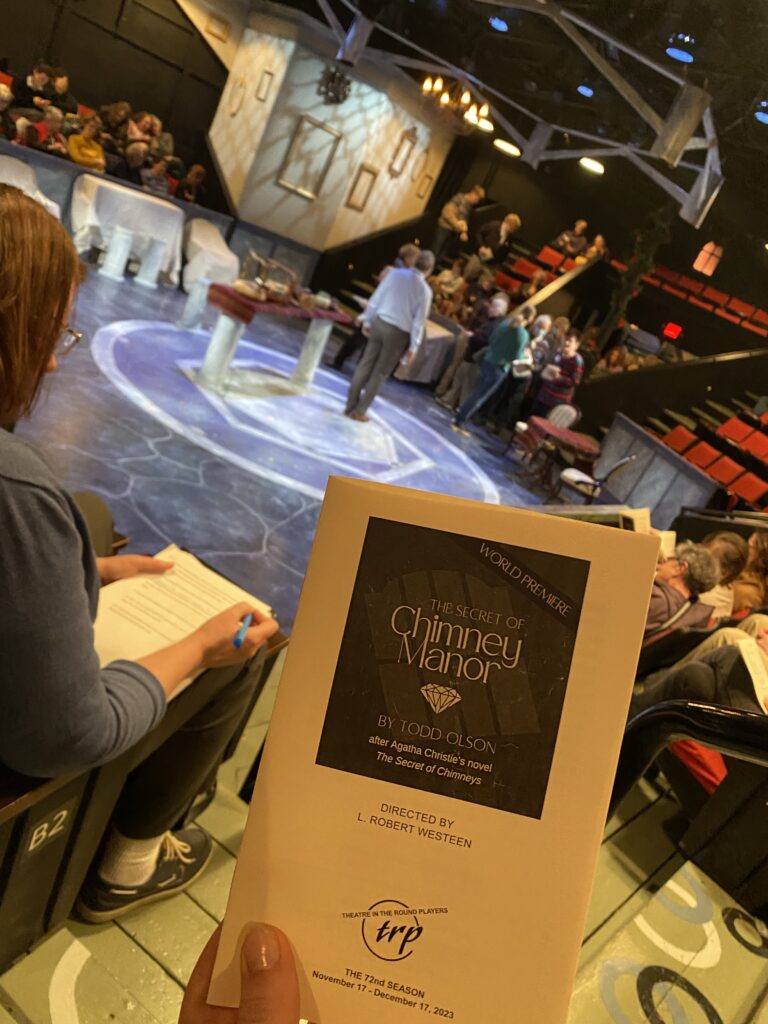 Seamus Foley plays the main character Anthony Cade who has taken on the task of delivering an important document. The memoir contains potentially damaging information on the king of Herzoslovakia. Cade is visited by several men who bribe and threaten him, but he doesn't give up the goods. There is also a jewel thief, and plenty of family secrets, not to mention a dead body, or two. Former Brainerd resident Erik Steen plays Superintendent Battle (Hi, Erik!) who is not as quick-witted as Poirot, but observant, none the less. Emily Jabas plays an intriguing Virginia Revel. Hailey Zeissler plays a whimsical and flirtatious "Bundle" Brent. I enjoyed the characterization of the various people in this story by the actors, some of them playing several parts. Clare Boyd was particularly entertaining as Natasha Anchoukoff. And, the character in the pin-striped suit with the lollipop made us chuckle!
Fun, somewhat period, costumes are by Deb Murphy. Co-Lighting Designers are Andrew Vance and Andy Kedl. Sound Design by Abe Gabor. Recording Percussionist is Joel Raney. I liked the atmospheric music and beat.
You can see The Secret of Chimney Manor at Theater in the Round Players through Dec. 17, 2023. Their Christie plays are always well attended, so get tickets early as several performances do sell out. 
Go. Create. Inspire!
Journaling Prompt: Who are your favorite Christie detectives? Also, I'd like to see more plays done with Miss Marple. It seems Poirot gets all the glory, but she's a clever lady with good stories, too!