Quote of the Day: You have to believe in it to get it. Nora Roberts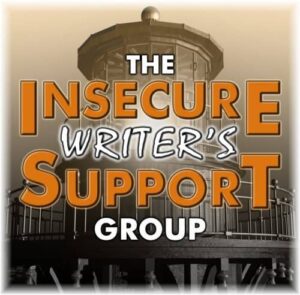 Today is another group posting of the Insecure Writer's Support Group! Time to release our fears to the world – or offer encouragement to those who are feeling neurotic. If you'd like to join us, click on the tab above and sign up. We post the first Wednesday of every month. You can also visit the founder Alex J. Cavanaugh for more info and links.
Question of the Month: The topic of AI writing has been heavily debated across the world. According to various sources, generative AI will assist writers, not replace them. What are your thoughts?
I'll admit, AI does scare me a little. It will replace some things but has its limitations. It can only do what has already been thought of. Humans have an innate need to create. We'll keep on creating despite the quick fixes and fancy gadgets. We have recorded music, but we still desire to learn to play instruments and sing. Concerts and performances still pull in crowds of people. We write, paint, make music, and create our own work despite all the technology that has already been created. I believe that we will continue to admire and seek out what humans create. 
In writing news, I've been working on the stage adaptation of the novel, It's Murder, Dontcha Know?, by Jeanne Cooney. During September, I workshopped it with director Joseph Yow at Central Lakes College in Brainerd, MN. Local actors lent their talent to the reading last Friday. While we were doing reading rehearsals, the cast and director offered great editing advice, and I continued to work on the script up until the day of the reading. I learned so much about adapting a book, from page to stage, what to keep in what to leave out, when to dramatize something more. The director talked to me about how the staging would work, when the main character seemed to take a back seat, and when scenes needed more clarification, or action, and when some needed to be cut. I started with a 128 page script and worked it down to 96 pages by the night of the reading. We still have work to do to make it even better, and I feel encouraged that it will be fully produced someday.
I was at a theater in the Minneapolis area on Sunday, a couple of Agatha Christie one-act plays. During intermission, I noticed an unsolved Rubik's Cube. I can solve the Rubik's Cube and always feel the urge to do so when I see one that's messed up. As I was solving it, the artistic director of the theater saw me and offered a reward for solving it. She was surprised that I solved it, and fairly quickly, so she offered a treat from the concession stand. Then, we got to talking about her theater, their workshops, which led to my workshops, and I mentioned the stage adaptation that I wrote and the reading we had. She said, "I'm interested. Tell me more." Who knew that learning to solve the Rubik's Cube back in 1986 could lead to me talking to a director of a professional theater and having her show interest in my play? 
Go. Create. Inspire!
Journaling Prompt: Do you have a unique skill, like solving the Rubik's Cube? Have you ever had a chance meeting with someone who helped your career?