I'm posting a plug for Theatre Elision's Ghost Quartet. It's a short run, closing this weekend, Oct. 8, 2022. It's been on my list for a while. They've done it in the past, but with the short runs, I've missed it. Until, now! I have tickets to see the show this weekend. It is a song cycle with string, percussion instruments, voice, and haunting melodies. A wonderful way to kick off spooky season. If you want to read a review, visit Cherry and Spoon. 
Press release from Theatre Elision. Photos courtesy of Theatre Elision.
Immerse yourself in a song cycle about love, death and whiskey from Dave Malloy, the Tony-nominated creator of the Broadway hit "Natasha, Pierre and the Great Comet of 1812". A camera breaks and four friends drink in an interwoven tale spanning seven centuries, with a murderous sister, a treehouse astronomer, a bear, a subway, and the ghost of Thelonious Monk. The story draws from several fairy tales and ghost stories, including Snow White and Rose Red, Edgar Allen Poe's Fall of the House of Usher, and One Thousand and One Nights (commonly known as Arabian Nights). Cast members present the story as a "concept album" and accompany themselves on keyboard, ukulele, guitar, mandolin, banjo, dulcimer, cello, accordion and #9000percussioninstruments.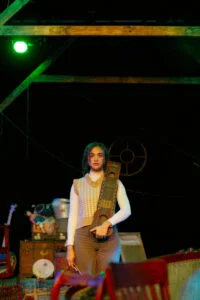 If you've already seen the show – this will be an entirely new experience. If you haven't seen it yet — it's time!
Journaling Prompt: What do you do to get into the spirit of the fall seasons?