Quote of the Day: TwentyPho Hour Playfest brings together 30 Asian American artists from around the country as well as almost a dozen people behind the scenes. from Theater Mu, based in St. Paul, MN. This streaming program included artists from around the country. It was a thrill to watch!
I'm grateful that Lianna McLernon from Theater Mu reached out to me to include me in the virtual audience for the TWENTYPHO HOUR PLAYFEST that Theater Mu hosted. It was fascinating to watch these short plays, and knowing that they had only 24 hours to create each production was even more impressive. They were all unique, thoughtful, and creative. A few were a little quirky, and others brought out some deep emotions. I was so engrossed in the shows, that I failed to write down the specifics of each play, i.e. the name, playwright, actors, etc. Luckily, Lianna provided those for me for this review. The following are the writing prompts. Each playwright was given one of the prompts.
Our memories are fickle, so I'm not going to necessarily describe these plays in order! I'll give you a few highlights of each one.
ONE CHRISTMAS EVE
Prompt: "And I can say that because my best friend is White."
Playwright: Kathryn Haddad
Director: Nana Dakin
ASM: Em Friedman
NOHA: Lily Tung Crystal*
YUSUF: Keivin Vang
JAMEEL: Cole Crystal
This one had some real emotions. A young man is spending his first Christmas in a new country, at a new job, and trying to fit into his aunt's plans for Christmas Eve, while missing his own mother, who is in another country. The kids are running around, into their own thing. The uncle is sleeping. So many of us can relate to the family dynamics and emotions in a scene like this. I really enjoyed the interplay between the young man and his aunt, and their relationship. Also, feeling the pangs of being separated from a son/mother during the holidays, even when they are different traditions and beliefs.
ASIAN PIZZA FOR ASIANS
Prompt: "Don't come for me just because you can't digest dairy."
Playwright: Keiko Green
Director: May Liang
ASM: Sydni Alise
ACTOR 1: Brian Kim*
ACTOR 2: Taj Ruler
NARRATOR/AD: Jeannie Lander
DIRECTOR: Greg Watanabe*
This one seemed a little weird at first. One guy had circle stickers all over him, like he was a pizza slice, I think. It was about food and stereotypes associated with food. One line that stood out "Asian flavor? What does that even mean?"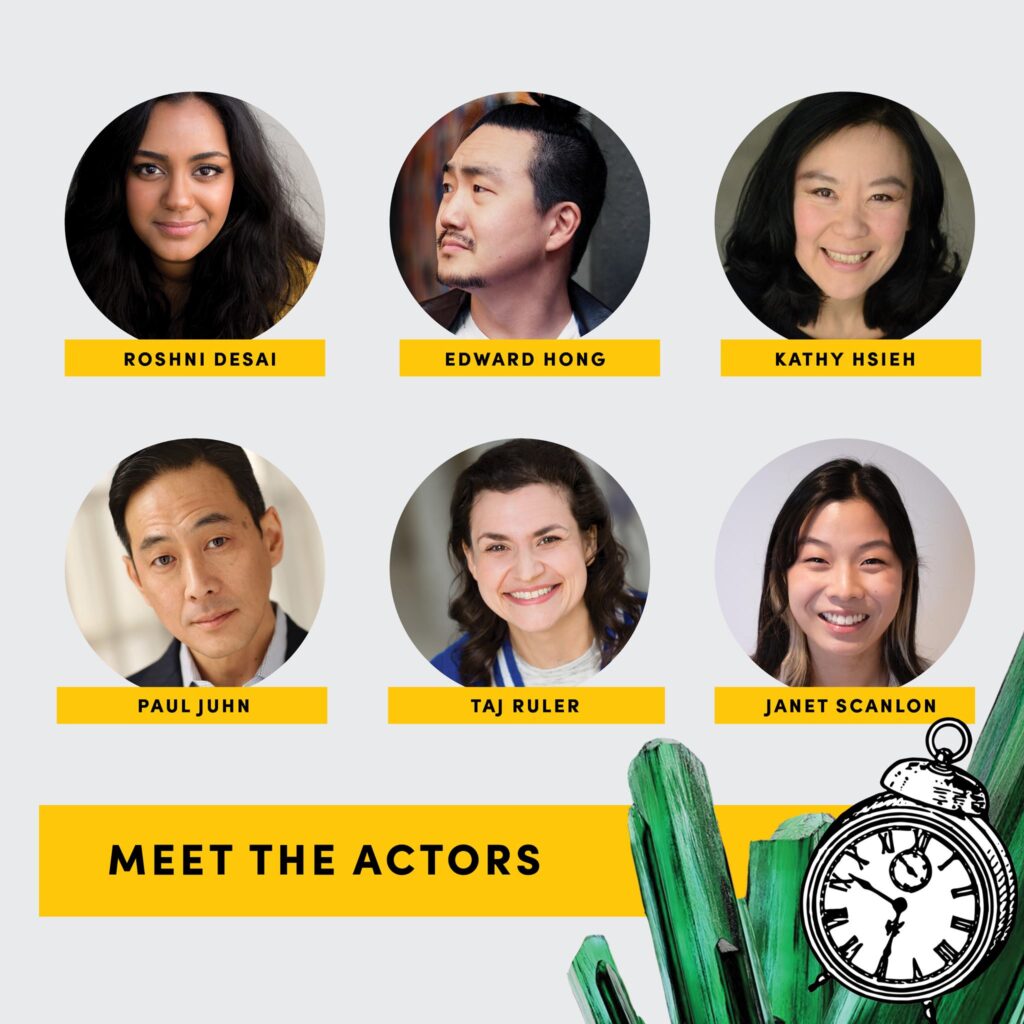 FAMILY TRADITION
Prompt: "Someone yelled 'karaoke,' and I panicked."
Playwright: Saymoukda Duangphouxay Vongsay
Director: Jen Weir
ASM: Kalina Ko
FATHER: Paul Juhn*
DAUGHTER: Janet Scanlon
I liked many things about this play. First of all, great use of the zoom format. A father and teenage daughter are on opposite sides of her bedroom door. He's trying to get her to come back to the party, but she freaked out about something that happened, that she caused. It had mystery. We wonder, from the start, what happened. It has a strange family tradition, that involves killing a "Mark," and we watch engrossed in the dialogue, trying to figure out why. Rather like a Twilight Zone episode.
SPIRITLIFTER888
Prompt: "Yeah, bro. I lift. Lift spirits."
Playwright: Susan Xu
Director: Peter J. Kuo
ASM: Katey Kraemer
ROSHNI: Roshni Desai
NANDITA: Nandita Shenoy*
EDWARD: Edward Hong*
This one also used the zoom format well. A "Spiritlifter" is on two separate calls with a mother and daughter. At first, you think he's mostly a sham. Then, he talks to the daughter, and really listens to her. He then talks with the mother. Through these conversations, he realizes that he can offer real help, not just barbells and sit-ups, but words of wisdom and understanding that go a long way in healing their relationship. I really liked the resolve in this one. If only we could all find a "Spiritlifter."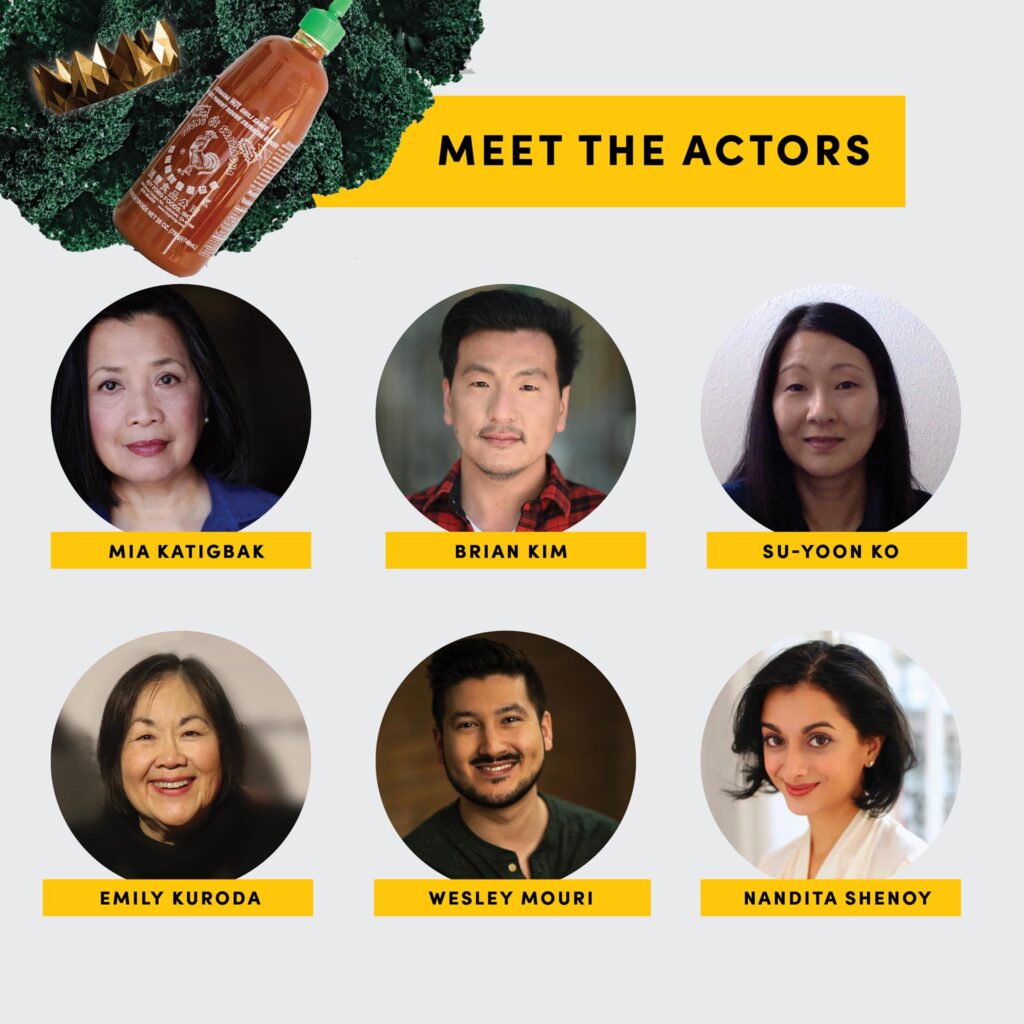 OUR LADY OF PERPETUAL SORROW'S FIRST ANNUAL NON -DENOMINATIONAL CHRISTMAS PAGEANT (AND POTLUCK)
Prompt: "Oh, it's my first Christmas. I'm Buddhist."
Playwright: Alex Lin
Director: Rich Remedios
ASM: Laini Devin
LILLI de la ROSA – Mia Katigbak*
JUNKO STEIN – Emily Kuroda*
EDDIE UCHIDA – Wesley Mouri*
KATHRYN DOLOROSA – Hope Nordquist
This one was so fun to watch. Definitely a little quirky. Set in a church basement, the characters have very different ideas of what should happen during the holidays. I am a huge fan of Gilmore Girls, and seeing Emily Kuroda (Mrs. Kim) in this format was a treat! She is still funny as ever!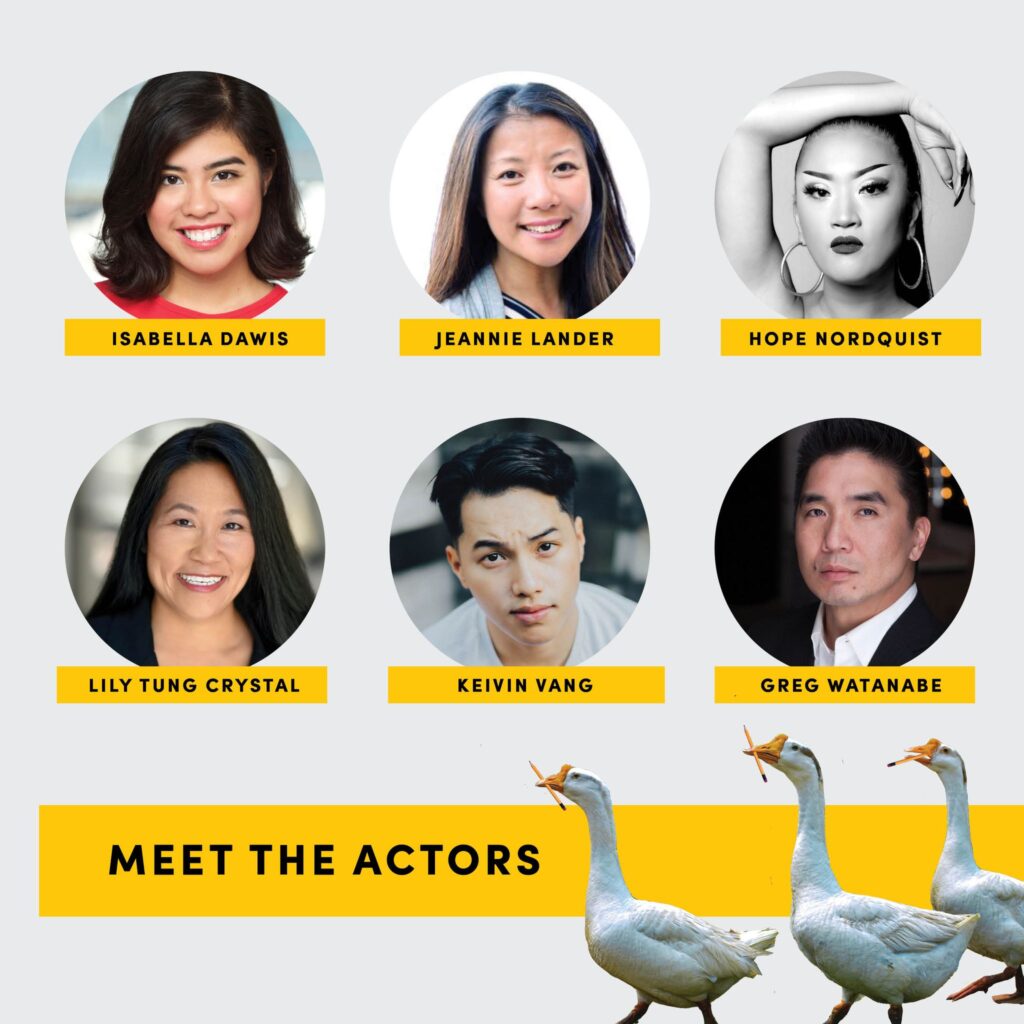 KAREN KAREN
Prompt: "Today I met a Karen women named Karen."
Playwright: Marlina Gonzalez
Director: Leslie Ishii
ASM: Gursimrat Kaur
KAREN: Isabella Dawis*
PRISCILLA: Su-Yoon Ko
MOTHER: Kathy Hsieh
I was so emotionally involved in this play that I forgot I was watching a zoom show. The actors became very real people as they told their story via a zoom call to each other. Karen is trying to organize her apartment, decluttering and wanting it to be more Feng shui. Priscilla, a consultant, is on the line with her, offering help. As they talk, we learn that they are both adopted and part of the Karen community. A black and white video of a woman crying and talking pops overhead during their conversation. They both hesitate. Priscilla starts to have memories of being separated from her baby sister. I had tears in my eyes by the end of this beautiful and heartbreaking scene. 
I'm so glad that I was able to tune into this amazing offering of plays and artists. Theater Mu is one of my favorite theaters to support in the Twin Cities. I've been able to view and review several of their plays. They don't have their own performance space, so they partner with other theaters like The Jungle, Park Square, and the Guthrie Theater. Coming up next, in person at Mixed Blood Theater, is Man of God, by Anna Ouyang Moench, and directed by Katie Bradley, Feb. 18 – Mar. 6, 2022. And, next summer, Cambodian Rock Band, by Lauren Yee, directed by Lily Tung Crystal, June 11 – July 31, 2022.   
Go. Create. Inspire!
Journaling Prompt: Could you write a play, story, or journal entry from any of the above writing prompts? It's got me thinking! Also, a family holiday story could be hilarious!