Quote of the Day: The physical, intellectual, and spiritual exchange between artists and audience can become a deeply inspiring and moving experience. We are invited through theater to be in each other's presence, to pay attention to each moment, to share an emotional ride and stretch our capacity for human empathy. We are together, learn together, feel together and carry that warmth within our hearts as we leave the space. I cannot imagine anything more joyful than to serve and participate in this art form. Marcela Lorca, Artistic Director for Ten Thousand Things Theater and director of their current production Comedy of Errors by William Shakespeare. The above quote is her statement in the program for the show. I like how they ask each of the artists, Why do Theater? 
Why do Theater? Because it builds community, helps us understand ourselves and our neighbors better, helps us feel like we're not alone, it's a wonderful creative outlet and a great escape. The last time my sister Joy and I saw a show together was Friday the 13th of March 2020, at the Plymouth Congregational Church in Minneapolis, MN. We saw Ruddigore, by The Gilbert and Sullivan Very Light Theater Company, as it opened and closed on the same weekend. We were thrilled to be back in the audience for Comedy of Errors by Ten Thousand Things Theater company. They do Shakespeare with much  pizzazz, and this show has lots of flare! 
The set-up is typical Shakespeare, with twins, separation at birth, mistaken identity, confusion, and misunderstanding. Six actors play all the parts. Nubia Monks plays a set of twins, both named Antipholus, but from two different places. Danielle Troiano also plays a set of twins, both named Dromio, but from two different places. Katie Bradley plays Adriana, who is married to one of the Antipholuses, as well as other parts. Cristina Florencia Castro plays Luciana and others. Will Sturdivant, the only male actor, plays several over-the-top characters, inciting much laughter. Sally Wingert is at her finest as Merchants, Emilia/Abbess, and others. There is much confusion over who is who, money, jewels, gifts, arrests, and who is actually married to whom. 
It was high entertainment, even if it was a bit confusing, and we certainly didn't catch every line and phrase of this fast-paced production. The actors do such a great job with the physical comedy and expression, that we were delighted and entertained for the entire 90 minute performance. Peter Vitale provides sound effects and music throughout the performance. Costumes by Sonya Berlovitz, important in defining the multiple characters they each portray, especially the subtle changes for the twins. Normally, Ten Thousand Things tours their shows to correctional facilities, homeless shelters, retirement homes, and community centers, within the metro as well as rural areas. With Covid restrictions still in place, they won't be touring this show, but plan to have it available to stream sometime soon.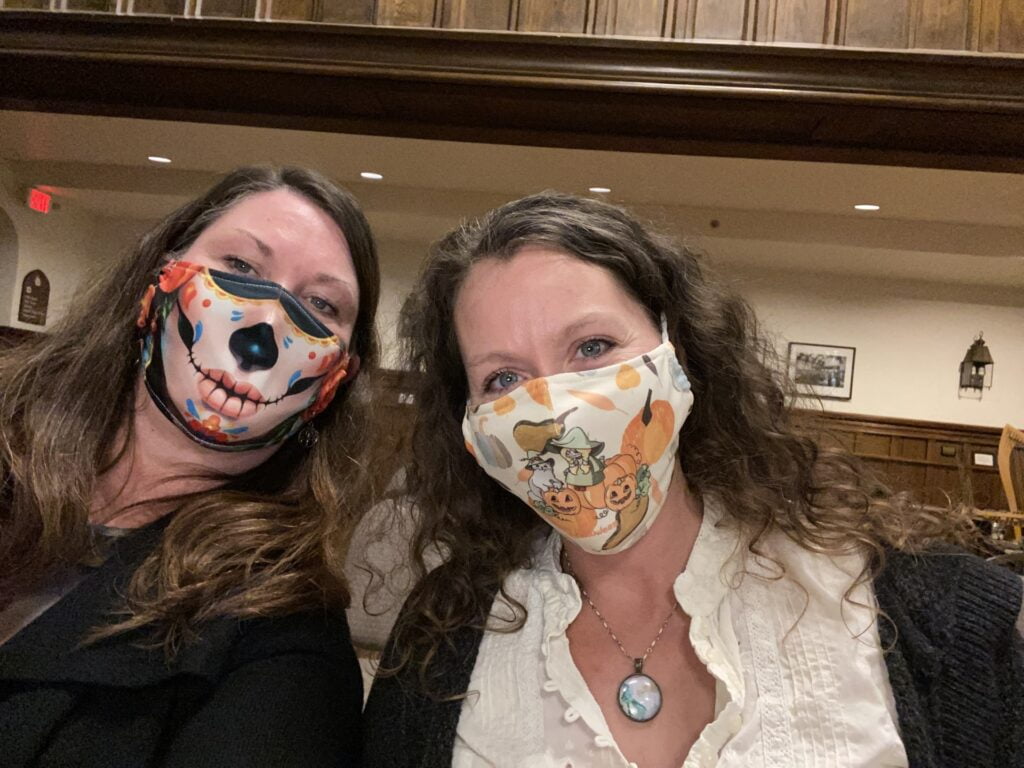 You can watch a live, in-person, performance of Comedy of Errors by Ten Thousand Things Theater at the Plymouth Congregational Church – Guild Hall, through November 21, 2021. Masks and proof of vaccination or a negative Covid-19 test required to attend. You can learn more about their Covid safety protocol here. 
Go. Create. Inspire!
Journaling Prompt: What was one of the last community activities you did before the pandemic lockdown started? What was one of the first things you did as you ventured out again?