Quote of the Day: Sometimes it takes new friends to make all the difference. The character Jidu in the Stages Theatre production of Stone Soup, a musical version of the classic children's book with the theme A little bit from everyone goes a long way for all. 
I've always liked this story. We follow three wanderers whose home is the road. They travel from village to village, somewhat dependent on the charity of others. They're often met with suspicion. The villagers hide what food they have, hoarding for themselves, not really even sharing with other villagers. Jidu tells the children who are traveling with him to look for a stone. They use the stone as a way to show that they have something to offer the villagers. All they ask for, at first, is a pot of water and a fire to start a soup with one simple stone. Soon, villagers are offering vegetables and other ingredients. The pot grows bigger and the travelers and villagers begin to trust each other, and eventually enjoy a delicious meal together.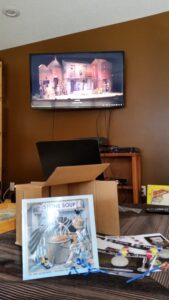 The story of Stone Soup goes back hundreds of years. According to a website dedicated to the folklore of the story, Stone Soup, the first published version was by Madame de Noyer, France 1720. It has been adapted and rewritten many times. I remember reading a version of it involving French soldiers coming back from war, when food was scarce, and most of the country was starving.
This version of Stone Soup, directed by Melanie Salmon-Peterson, was created by Jeannine Coulombe, music and lyrics by Michael Gruber. It stays true to the theme of the story where the Travelers are seeking help, food, and in return offer entertainment and a delicious recipe! The songs are fun and catchy. I especially liked Put the Potato in the Pot, and Antigo's solo near the end. The cast is a mix of children and adults with several solos by both, and simple choreography (Dorian Brooke). The staging is fun and active. A few actors are on wheels (rollerblades, a skateboard). The character Joker tells jokes. Overall, it's an engaging production and a great way to involve children and adults.
Stages Theatre is offering a streaming option to view this musical. You have seven days to watch the show, as many times as you like. You can also get a box of activities, including the book Stone Soup, for a more interactive experience, and of course, recipes for soup and other yummy foods to go with it. They also included a couple stones and paints! I watched it while eating a lunch of chicken noodle soup, home made bread, cheese and meat.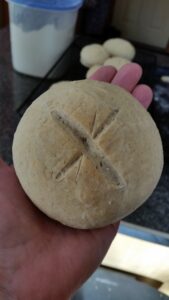 You can learn more about this production and other offerings from Stages Theatre at their website. They are taking registration for summer theater workshops and holding auditions in April for their summer production of You're a Good Man Charlie Brown. 
Go. Create. Inspire!
Journaling Prompt: What's your favorite kind of soup?