Quote of the Day: …we only thrive as well as we can adapt. Larisa Netterlund, director of the Lakeshore Players' production of Wait Until Dark, available through January 24, 2021.
I saw a live community theater production of Wait Until Dark several years ago. It is atmospheric and intense. I wondered if that would work as well streaming. It did, for me. Lakeshore Players in White Bear Lake is offering a filmed performance of this show at set times through January 24, 2021. Normally, with a filmed show, I prefer that it is on demand, so I can watch it at whatever time works for me, and pause it if needed, or go back to it. However, since this play builds suspense, it is important to watch it in one sitting, with only a five minute intermission built in, to keep the intensity. I watched it in a mostly dark room, at night, and found myself holding the blanket tightly under my chin by the end. If you were watching this play live, in a darkened theater, you would certainly feel a need to reach out and grab the hand of the person sitting next to you (preferably someone who came to the show with you)!
Wait Unit Dark, written by Fredrick Knott and adapted by Jeffrey Hatcher, is set in the 1940's. Susan (Iréna Flury) is learning to navigate her world after a recent car accident that left her blind. Her husband (Daniel Hildebrand) is a photographer. He has inadvertently brought home a treasure, putting them both in danger. He leaves, and Susan must fend for herself against a trio of thugs who are intent on finding the treasure, and possibly hurting her. We already know that they're capable of murder, so the stakes are high. Susan's young neighbor Gloria (Ella Jean Martin) comes and goes. Sam hired her to help Susan and check in on her, but she's not always honest about what is going on. The three thugs, Mike (James Lane), Roat (Ryan D. Maddux) and Carlino (Parker Shook) think they'll be able to manipulate Susan because of her blindness. But, her other senses are heightened, even more so as she senses danger. It is fascinating to watch her discover the men, and sense clues about what they're really up to, even as they try to trick her because she can't see them. In the end, her disability becomes her asset.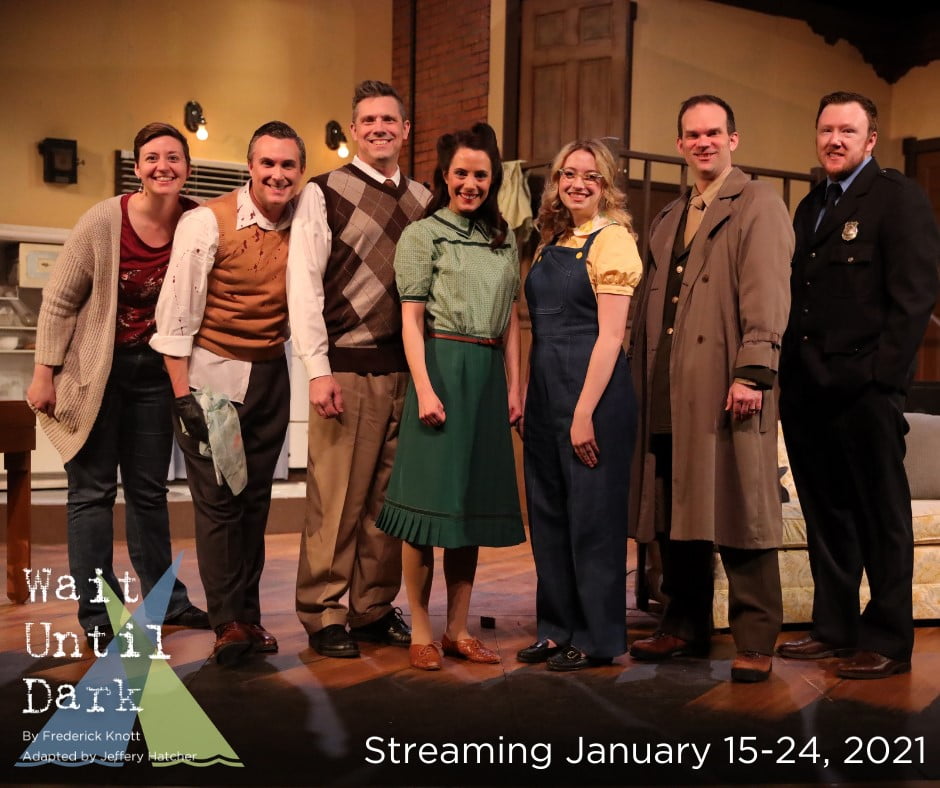 Watch this show with the lights out (or on, depending on your own fear factor), in one sitting, with a friend or family member, if possible. Stream it through your TV, if available. The show is more intense because of the lighting (Shannon Eliot) and sound (Nathaniel Glewwe) and excellent directing and acting. Iréna Flury does a great job of showing her fear, confusion, realizations and strengths as she adapts to her world and learns to protect herself. (Although, I don't think she is a visually impaired person, herself.) Ryan Maddux is excellent as the sinister bad guy. He had me convinced that he'd do anything to get what he wanted. The rest of the ensemble are good actors, making the story feel scary and immediate.
Wait Until Dark offers a great role for someone who is visually impaired, and I would like to see a production that is appropriately cast.
For more information on the show and how to get tickets, visit The Lakeshore Players website.
Go. Create. Inspire!
Journaling Prompt: