Quote of the Day: This is a little more than a quote, more of a testimonial about Fringe from someone who has been part of Fringe as a performer, volunteer, staff member, and audience. Ariel Leaf, who's show A Mermaid in Every Sea, was in this year's Virtual Fringe, and one of my favorites! 
The Fringe is not only incredibly unique, but vital both for artists and for growing an audience of theatre goers in the twin cities.
For artists, it levels the playing field. You can be an unknown trying to make plays for the first time or an established company, and the opportunity is equal. You put your name in an unjudging lottery and are picked on luck, not someone's idea of your merit.
You are also incredibly free to take risks. With such a low entry fee you don't need to worry about recouping costs. You can try the thing you're not sure will work, or if people will like it, you can truly do the thing YOU want to do.
And you can learn from other artists. The Fringe regulars are always ready with advice from years of experience to share on everything from media savvy to keeping your show simple but spectacular.
And from your time in Fringe you can establish your work and then, often, have companies born from it, such as Transatlantic Love Affair, Walking Shadow, and Nimbus.
For audiences, many come who aren't regular attendees in the normal theatre season, but might become so if they fall in love with what they see. They often follow (I speak from experience) an artist beyond the Fringe and attend shows they do in the regular theatre season. They try things they might not normal try because the cost is low and the run time short.
I struggled when I began to find my place in the theatre community. I started producing at the Fringe and found success and courage to produce shows outside of it. And I meet people who would become lifelong collaborators. I took my turn as a volunteer and a Fringe Staff member, and found joy helping others to succeed as well.
We call it theatre Christmas for a reason. It's a celebration and a gift to us all. Without it, we wouldn't discover each other, artists and audience alike.
Thank you, Ariel! I like that term, "Theatre Christmas." It certainly felt like a gift this year!
I have been wanting to attend the MN Fringe Fest ever since I heard about it. I've even tried to get a spot and have one of my shows performing in Fringe. That hasn't happened, yet. What I find fascinating about Fringe is that it is open to anyone. You don't earn, or buy, your way into Fringe. Acts are chosen through a lottery system, and anything goes. You could have kids performing dance or a play they wrote, a stand-up comic, professional actors who perform all over, sweet stuff, edgy stuff, performances that you connect to and ones that leave you scratching your head. The performers write a description of their act, determine age appropriateness, language, warnings, etc. and the audience chooses which shows to attend, or watch, in the case of virtual Fringe.
Since MN Fringe went virtual this year, they made it more accessible to everyone. It was a fairly risk-free experience. I was in the comfort of my own home. I could read about the shows I wanted to watch, check other bloggers' reviews (if they saw it before I did, or were familiar with the artists), and if I didn't care for the show, I could turn it off. 
I jumped right in the first day and watched two shows offered in their "Nightly" category. You could watch recorded shows on the Digital Hub, or tune in each night for a live performance. I didn't catch too many of those because it's harder to commit to a 7:00 show if the kids are home, you're eating dinner, or have other evening distractions. I found myself watching the recorded shows at various times throughout the day, while eating breakfast or lunch, during food prep, or when I had a half hour or so for a shorter show. Much of my watching revolved around food, so basically, I ate my way through Fringe!
I watched 25 Fringe shows during this 2020 Virtual Season. 14 stand out as favorites. Here they are in the order that I watched them.
The first two are from that first Nightly evening offerings on 7/30/20.
Break the Dice by The Bearded Company. I've watched some of these performers in live theater, so expected it to be good. It was!
And, #txtshow (on the internet) starring Brian Feldman, where the script is written by the audience, done live through Zoom. Brian reads the lines sent to him. It was a hoot. I wish I had done it again. I give Brian credit for connecting me to MN Fringe this year. It was his press invite that got me excited to give Fringe, virtually, a try. I'm glad I did.
I'm a musician, so I was drawn to the performances with music. Nature Creature by Elizabeth Alexander and friends was truly lovely. I listened to it at least twice, some songs more!
Stuck in an Elevator with Patrick Stewart by The Theatre Cosmic was a smart, creative play about a young man meeting his celebrity hero. I watched it with my college age sons. We all enjoyed it. 
I was fascinated by Les Kurkendaal's Climbing My Family Tree. He sent in his DNA to ancestry dot com and came up with very interesting results. He's a fantastic storyteller. So glad I clicked on his performance. 
I watched The Fourth Wall's Fallen From The Toy Box after reading Cherry and Spoon's rave review about the company. They were excellent. I also signed up for their Nightly live show on Saturday night, and I'll be watching them again this Saturday as they celebrate 10 years performing together. They are brilliant. I look forward to the day I can sit in their live audience!
I found Brian Kennedy's performance from his home in Ireland delightful. He was personable and generous. I watched/listened to it twice, some songs even more.
Ariel Leaf did her storytelling from her bedroom, A Mermaid in Every Sea. She had done some of the material live in other Fringe Fests, and included a new one. She was great. So engaging. I felt like we were having a slumber party and she was entertaining with her tales of travels and trials! I'm still thinking about her adventures and near misses in the airport! You can also find her stories on her Youtube channel. 
I didn't know what to expect from Paul & Erika's House Show, so it took me until halfway through Fringe to tune in. I had no idea it would be so brilliant and endearing. I watched it twice, the second time with a dessert plate. The show is sweet and satisfying, like a home made brownie with ice cream. 
Another sweet Nightly experience was The Champagne Drops. They normally do gigs around town and have done Fringe live. Some day…
The shortest show on Fringe this year was Wash/Repeat by Meg Kirkhoff. Artistic, engaging, excellent filming/editing. Just over 5 minutes long. I watched it a couple times!
I thought Love & Other Lures was terrific. I wish I had youngsters to watch it with me. Their music is for sale. I might be purchasing some!
I had no idea that I would be drawn in so completely by a virtual dance performance, but Proximity transported me – in part to Cincinnati, where it was filmed, in part into the artistic experience, and into myself. The spoken word poem by Jyreika Guest speaks to my feelings and experience about the current situation in the Time of Covid-19. I watched it several times and asked the artists for a copy of the poem. You can find Proximity and other work on the website for Pones. 
The treat at the end of Fringe for me was Killjoy, OH. Here's my Fringe review: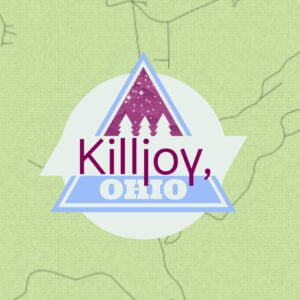 On Sunday morning, I woke up wanting a good story. Matthew from Single White Fringe Geek had given Killjoy, OH a five star rating and said it was, "an intricate puzzle box of an adventure script." I paid the $8 and went in for the ride. It was so good, I watched it twice! Excellent storytelling. Tight, smart script. A bit of mystery and intrigue and somewhat supernatural, like an episode from The Twilight Zone. I was riveted to the screen. Excellent use of technology and so well done. Superb acting. Bravo! Slightly adult themed, but I'd watch it with a teenager. Easily in the top three from MN Fringe this year. You can find them at Queen City Flash. 
The story seemed to be inspired by vintage postcards from this quiet town. Scenes from a time forgot and an amusement park that left no trace behind. I am fascinated by images of abandoned theme parks, in fact, it's one of my Pinterest categories. The way they wove this story together captured all my senses.
I appreciated the virtual option for MN Fringe this year. I finally got to experience it. I hope to be there live and in person soon. To support Fringe, I bought some merch – a Fringe facemask, of course, to commemorate the times! Another bonus: having something to review and post on my blog. I haven't been this active since I participated in the Blogging from A to Z Challenge for a few years during the month of April. I hate to stop the momentum!
You can check out other reviews of MN Fringe Festival, virtually, 2020, on the Twin Cities Theater Bloggers Facebook page, Rob from The Stages of MN, and long time Fringe reviewers Matthew from Single White Fringe Geek, and Jill from Cherry and Spoon. 
I am amazed at all the artists who continued to do art and share their recorded performances. I noticed that several had also been in Cincy Fringe (Cincinnati, OH), and may be doing the circuit virtually this year. Bravo! to all!!
Go. Create. Inspire!
Journaling Prompt: What virtual performances are you tuning into during this time of dark theaters and staying safe at home?