MN Fringe Fest, Virtually, during the Time of Covid-19 has been a blast. I'm grateful to MN Fringe for still putting it on, despite not being in person. I'm ever so grateful to all the artists who made new art, or shared recordings of previous shows, so that we could still connect through the Performing Arts. I'm grateful for anyone who has interacted with me about Fringe. It was my first time, and I really longed for the connection and sense of community that the Performing Arts provides. I didn't get quite as much interaction as I'd liked, but what I got was gold. I connected with some of the artists, chatted with other bloggers, and even had one in person conversation about Fringe when I was at an outdoor community theater performance here in the Brainerd lakes area. 
Here's a recap from what I watched over the final weekend of MN Fringe.
In the early afternoon on Saturday, after I watched and wrote up a review for Park Square's Riddle, Puzzle, Plot, episode 3, I watched a dance performance called The Art of Opposition by The People Project. I'd describe it as creative movement and idea. They probably had fun creating it. I didn't catch when each segment was filmed, but probably well before Covid social distancing. The movements were slow and lyrical and a little hard to feel engaged watching through the screen. I enjoyed the solo performance in the rural setting, and the one at Gustavus Adolphus College with an environmental theme. Family friendly, for people who enjoy interpretive dance. 
When I was doing some straightening up and food prep, I re-watched, or rather, re-listened to Brian Kennedy. What a gift he has in his voice and storytelling through song.
In the evening, I watched The Fourth Wall live streaming Fruit Flies Like a Banana. It was good. They wanted the feeling of an audience, so they used Zoom and asked that we keep our video on. It worked okay. I was self-conscious of how I looked and who was watching, but not enough to turn it off until about 3/4 of the way through when I got fed up with my bad internet connection. That's the problem with Zoom. I've squinted through enough piano lessons (I'm a piano teacher) and strained to hear the music, to know that Zoom is not a great platform for music. So, something was lost in translation, there. I liked what they did. They also included other artists and helped to promote them. Loved seeing Les Kurkendaal again. His story, Climbing My Family Tree, was one of my Fringe favorites! I keep thinking about it. I loved The Fourth Wall's recorded show on Digital Hub, Fallen From the Toy Box. It was filmed well, and I had a great sense of what their shows are like in person. When we are able to do live theater again, I'll be in their audience!!! Family Friendly.
After they quickly wrapped up their Nightly live stream, I scooted over to Scenes from a Hat. I'm sorry to say that it was a little disappointing. I love improv. I'm in a local improv troupe, and I miss them! We haven't gotten together since before the quarantine. Part of what makes improv exciting is the the energy from the actors and audience and the physical nature of the craft. Watching talking heads wasn't as interesting. Sorry. I know you were trying.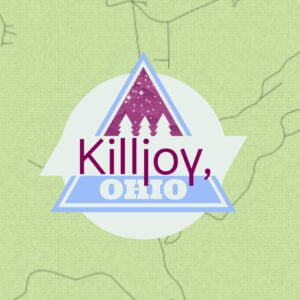 On Sunday morning, I woke up wanting a good story. Matthew from Single White Fringe Geek had given Killjoy, OH a five star rating and said it was, "an intricate puzzle box of an adventure script." I paid the $8 and went in for the ride. It was so good, I watched it twice! Excellent storytelling. Tight, smart script. A bit of mystery and intrigue and somewhat supernatural, like an episode from The Twilight Zone. I was riveted to the screen. Excellent use of technology and so well done. Superb acting. Bravo! Slightly adult themed, but I'd watch it with a teenager. Easily in the top three from MN Fringe this year. You can find them at Queen City Flash. 
I watched a couple shorter shows on Sunday afternoon.
The Graveyard by Alyssa Rae and Second Star productions. The actors were Alyssa Rae, Elliot Stevens, Michael Munoz, and Tera Stona. Four high school seniors spend the night in a graveyard. They come across the gravestone of a young woman who died from suicide her senior year, when they were middle schoolers. They look for the gravestone of the boy who haunts the cemetery. They share some of their own fears about graduation and their futures. Great use of Zoom. Appropriate for older teens and up. 25 minutes
Next, I watched The Telling by The Electric Telescope Experimental Theatre. Good filming and use of multiple screens. It's a telling of a group of people searching for the ancient city of Troy. They also act out what might have happened and explain some of the ancient stories. 23 minutes. 
You can check out other reviews of MN Fringe Festival, virtually, 2020, on the Twin Cities Theater Bloggers Facebook page, Rob from The Stages of MN, and long time Fringe reviewers Matthew from Single White Fringe Geek, and Jill from Cherry and Spoon. 
Go. Create. Inspire!