Wow. Four out of four hits yesterday. One I loved so much, I watched it again this morning.
Friday is a quiet day for me for piano. No students, so I focused on Fringe and a few other things.
Right after lunch, I watched Love and Other Lures by Dr. Dour & Peach. Their theme is monsters, music, and movie making. Plus, a little man inside the wall to offer commentary. He's like The Littles, or The Borrowers. He says that once upon a time, more people believed in the little folks inside your walls. They were blamed for things that went wrong. People left them offerings so that they wouldn't wreak havoc on their homes.
Dr. Dour & Peach sing about vampires in "Suckers" with lyrics like, "My daughter is dating a vampire." "The Ballad of Ben & Bill" is storytelling through song, about "a giant, man-eating alligator and the man who hunted him down." Their songs are clever, fun, and a little weird. Not quite "silly songs," more like having fun with Halloween themes. In fact, they would be fun to hire for a Halloween party, when it's not the Time of Covid-19 global pandemic. Until then, you can find them on their web series, Dr. Dour & Peach sing songs about Monsters. You can also purchase their music, digital or CDs. I liked it. Great filming, magical, clever, and excellent musicians. Peach plays the cello and Dr. Dour plays a 10-string touch guitar. They have a slightly creepy ghost girl voice in the video, but other than that, very family friendly. (I would't even call that scary.)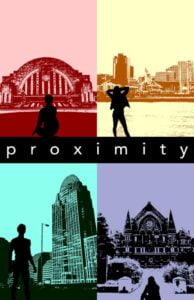 After a brief nap, I clicked on Proximity by Pones, a performance group out of Cincinnati, OH. This is a beautiful art piece of movement and dance, filmed all around the city of Cincinnati. They chose parks, bridges, and filmed in front of dark theaters, then inside them, spaced far apart, in front of a closed curtain. They were at the quiet ballparks and stadiums, in empty streets and parking lots. Most of the music was sustained sound, like fingers on a water glass or Tibetan singing bowls. At one point, all we heard was a clock ticking, or the sounds of nature, a man dancing to the birdsong. Later, the music had more rhythm, but still very lyrical in movement. It got more forceful when they danced in "Government Place."
Watching Proximity was a little like watching the movie The Artist, they found ways to provide words, on buildings, street signs, even graffiti painted on the side of a bridge. When our ears don't hear words, our eyes search for them. The Spoken Word poem by Jyreika Guest spoke of the times we're living in. Is it published anywhere? Could I get a copy? It says exactly how I feel during these times of "silence and uncertainty." This piece was so moving. I watched it again this morning. Great filming and editing, director Ian Timothy Forsgren. You can connect with Pones on their website. 
While I was eating dinner, I clicked on So, What Did I Miss? (Or, Everyone Has a Voice!) a short, 15-minute, video starring Neuron, a Tree, Pronoun, a Rollercoaster, and a Narrator. Produced by Visionary Theater. Here's their explanation of their show: An abstract landscape about earthly elements resisting an oppressive hierarchical supernatural power. Visionary Theater is a new Minnesota-based project for Autism-centric theatre arts to promote more inclusivity for neurodiversity. (Adult language, Crude humor, Flashing lights, Loud noises.) 15:38 minutes. Short, but with a powerful message. Everyone DOES have voice. We can't stuff everyone into the same old box. Most people don't fit. We're free to be ourselves and be respected for it. I like how they filmed this show. They have a few swear words, but I'd still say it's a show for everyone. Sending virtual applause!!!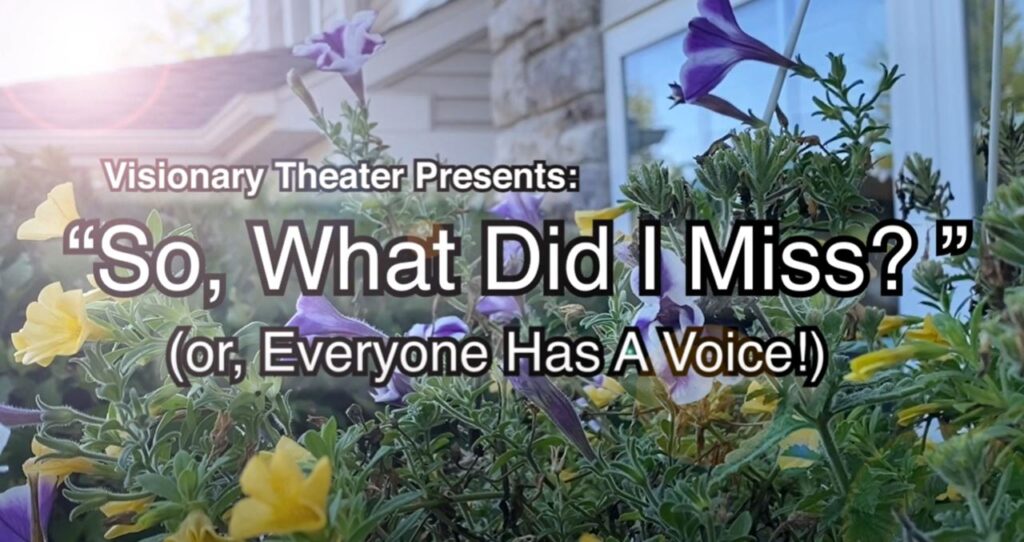 I closed the night by watching Simon. I hesitated to watch this one because of the trigger warning about abuse. And, yes, it is triggering for anyone who has suffered from verbal/emotional/physical abuse, or tried to help someone who is living in that situation. Lucy lives next door to Simon. When they were young, they were great friends. They played together, hung out, and share a memory of when Simon climbed too high up a tree and fell. When they're teens, they reconnect and start forming a relationship. Simon's older sister has graduated by then and spends most of her time away at college, and he's taking the full brunt of their parents' abuse. It is hard to watch. I lived for many years with an abusive spouse. Verbal/emotional abuse are not easy to spot. There are no bruises or broken bones. No 9-1-1 calls for help or trips to the ER. You suffer in silence, unable to truly explain what is happening, or understand it yourself. Those scars run so deep, that even years later, you hear the voices telling you that you're not good enough or worthy. Simon is a tragic story. It is well done, good script writing and acting, on a a bare bones stage. I'm sure the lighting was better live. The filming was okay. I'd watch this one with my teenager, or a trusted friend, and use it as a starting place to talk about abuse. 
Only two more days left of Fringe. I've been enjoying the virtual offerings, especially the recorded shows. It's nice to have options when to watch it, or rewatch it!
You can check out other reviews of MN Fringe Festival, virtually, 2020, on the Twin Cities Theater Bloggers Facebook page, Rob from The Stages of MN, and long time Fringe reviewers Matthew from Single White Fringe Geek, and Jill from Cherry and Spoon. 
Go. Create. Inspire!