Quote of the Day: Welcome to the 2019 Concordia Christmas Concert, "My Spirit Sings." Through the playing and singing of the student musicians…May the themes of compassion in community, generosity of spirit, love and forgiveness, and humility and gentleness be the threads that weave the tapestry of all of our lives together, this day and always. Soli Deo Gloria – To God Alone the Glory. Dr. René Clausen, Artistic Director and Conductor of The Concordia Choir
Today's post is more for me than anyone, a way of preserving the experience that I cherish watching my son grow and connect with the legacy of music at Concordia College and those within his own genes. This is my perspective, from the lens of a mother and a writer, and a person who connects with the emotions of an experience.
The past four years, I have had the joy of attending the Concordia Christmas concerts, both in house and at Orchestra Hall. The first year, a friend's daughter was in the choir and she encouraged me to experience both. You get the home feeling when you attend the performance at the college in Moorhead, complete with the stunning murals created by Paul Johnson. The performances at Orchestra Hall are mesmerizing. The venue is acoustically perfect. The seats are comfortable, and the setting idyllic, the city in all its Winter glory. One year, I went alone, sat alone, and stayed at a hotel alone, but I didn't feel alone. I felt connected to the music and my son who makes it. And, I felt peaceful. Life is filled with angst. Music soothes my soul. Music, produced by my own children, lifts my soul up. 
Zach, my boy, celebrates his Birthday at the beginning of December. When he was young, we'd have a party for him, then get the Christmas tree. It felt like the kick-off to the holidays. Now, as he's been singing with the Concordia choirs, this concert has become that, as well. I'm always handing him his Birthday card, and a few Birthday bucks, after a performance. The same was true this weekend. In the note this time, I reflected on our tradition of attending these concerts, how grateful I am that he continued to be involved with music after graduating high school and that I still get to experience it. Music will always be part of his life. He's a vocal performance major! Who knows where that will take him.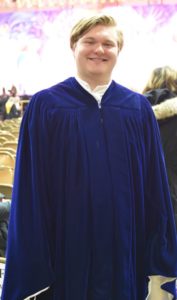 Zach is a senior. This was his final concert with The Concordia Choir. He's blossomed under the direction and guidance of Dr. René Clausen. Dr. Causen will be retiring this year. The gym, where they perform their home concert, was filled with emotion. I felt it as the choirs lined up in the halls and stairways. (They process with such gradeur.) When the orchestra played its opening notes, goosebumps rose on my arms and legs. My mom whispered, "Aren't you excited?" I smiled and nodded, "Yes." I also blinked back tears. I brought my "good" camera, but I didn't pull it out. It's really not appropriate to take pictures (and no video is allowed), and it felt disruptive to even grab a shot as they first entered. I savored the moment with my eyes and my heart.
Towards the end of the program, all the choirs come out onto the floor. They surround the audience who are in chairs on the floor. We were on the second row of the bleachers (ideal seats for this performance). Dr. Clausen came out on the landing which is midway up the bleacher section. All eyes were on him as the spotlight highlighted this beloved conductor. It would have been a beautiful photograph, his face in concentration, his arms gliding through the motions of conducting, each choir member focused and lovely. It was breath-taking. Then, we all start to sing "Silent Night," and the choirs march back to their places on the risers. Our voices join theirs, and it is a touch of Heaven.
Zach said that this performance was emotional for everyone. Dr. Clausen's colleagues conducted through their own tears. He said that as he walked off the stage and into the music building, he felt happy. "I've had a great experience here," he said. I feel grateful that my boy was swept up in the musical genius of Dr. Clausen and the musical legacy of Concordia College. I'll miss those mad dashes to Moorhead after playing for a worship service on Sunday mornings. I'll miss tucking the card and money in my purse, and double-checking it as I leave the house. I'll miss having my own Mom and Dad sitting next to me in the bleachers, as well as other family members on certain years. I'll miss that bewildered search for my boy in the throng of people hugging and congratulating each other after the final performance of the season, while the workers immediately begin clearing off the chairs and risers! I'll miss that quiet, peaceful experience of sitting and listening to that beautiful music waft up through the rafters of both the college gymnasium and the fantastic Orchestra Hall. Mostly, I'll miss having my boy near enough to visit and hear perform. But, like I said in his card this year, "I'll be saving up my $ to come hear him wherever he's performing." 
Life evolves. People move onto new chapters. Some moments we capture with our pictures and videos. Others are etched into our minds and become memories that we cherish into our old age.
May the Spirit of all that is good and beautiful in this world be with you.
Go. Create. Inspire!
Journaling Prompt: What are some special moments you've experienced lately, within your family or community?