Quote of the Day: A German N.C. O. with the Iron Cross, gained, he told me, for conspicuous skill in sniping, started his fellows off on some marching tune. When they had done I set the note for "The Boys of Bonnie Scotland, where the heather and the bluebells grow," and so we went on, singing everything from "Good King Wenceslaus" down to the ordinary Tommies' song, and ended up with "Auld Lang Syne," which we all, English, Scots, Irish, Prussian, Wurtembergers, etc., joined in. by Capt. Sir Edward Hulse (printed in the program guide by Theater Latté Da for the performance of All Is Calm)
I read about "The Christmas Truce of 1914" in Erich Maria Remarque's war time novel All Quiet on the Western Front. I can remember where I was when I read about the weapons going silent, the music lifting out of the trenches, and soldiers from both sides joining in singing. It was a holy moment. A brief reprieve in the cacophony and chaos of war. Peter Rothstein envisioned this remarkable moment and paired up with composers Erick Lichte and Timothy C. Takach to create a moving musical for the stage. Ten men tell the story, citing letters and poems written by soldiers, and singing the lovely melodies, war songs, home songs, Christmas Carols, songs of peace. It's heartbreaking and mesmerizing. I wanted so badly to bring my four sons to experience this performance. It wasn't easy. Nearly the entire run sells out. All Is Calm has toured the region. I regretfully missed it when it came to Brainerd a few years back. I think we had a band concert that night. It had a run Off-Broadway last year and earned a Drama Desk Award. They filmed it this year to be aired next December, 2020, on PBS. I'll be watching it. I also bought the CD and am listening to it as I write this reflection.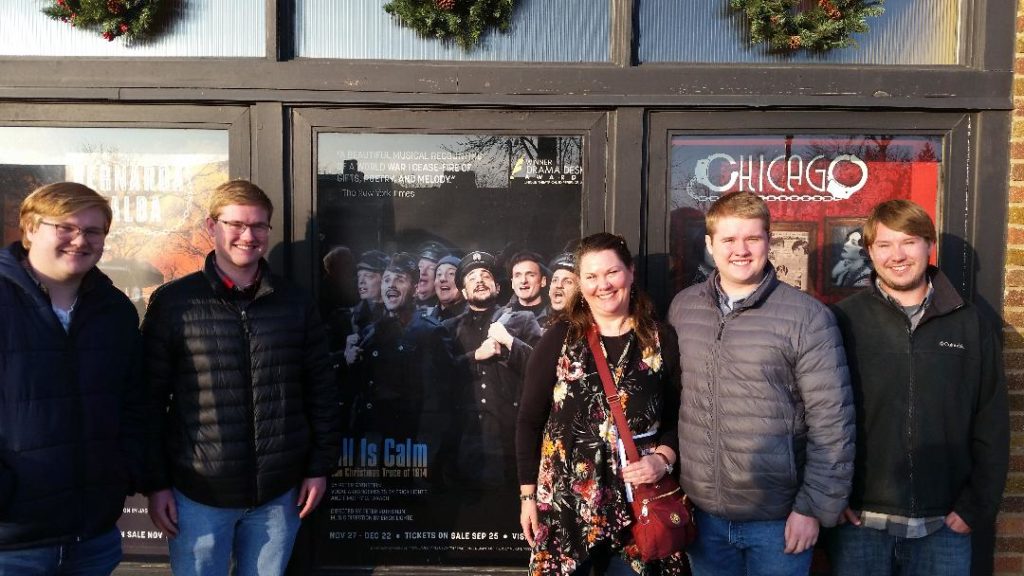 This is not an official review. I went on my own dime and wanted to bring my four sons. That alone took a Christmas miracle and a rare Friday matinee, and somehow a free day for all of us. Bobby flew back to Minnesota, leaving the warm comfort of Texas to enjoy a white Christmas with all of us. Zach, for once, didn't have rehearsal. Charlie, who plays in the UMN Marching Band didn't need to leave until Sunday (today) for the Outback Bowl game in Tampa, FL. And, Eric, his twin brother, is able to spend the winter break at home with dear, old mom. The experience was everything I imagined it would be, and more. 
I have been to many shows at The Ritz Theater in Northeast Minneapolis, now home to Theater Latté Da, and I saw "Steerage Song" when it was on tour and stopped in Brainerd, MN. My son Zach loved the musical and asked for a cast recording. (I don't believe they have one. Maybe, they'll remount the production and record one.) Sometimes, I get press comps to write reviews. Often, I purchase tickets for myself and my kids (or whomever wants to see the show with me) because I need to come at a later date and media weekend doesn't work in my schedule. All Is Calm was on my must-see list, and I'm so grateful that it worked out for all of us to experience this show together, to have a family outing, and spend time together. Some of the comments from my boys after the performance: Beautiful, haunting, mesmerizing, somber, touching, vulnerable but precise performance. Wonderful Christmas experience with my sons.
All Is Calm is a quiet piece. The atmosphere is set by fog and lighting (Marcus Dillard) and of course, the gorgeous voices of the performers: Sasha Andreev, Paul R. Coate, Benjamin Dutcher, Andrew Hey, Ben Johnson, Riley McNutt, Rodolfo Nieto, James Ramlet, Andrew Wilkowske, and Evan Tyler Wilson. They used many accents and sang in several languages. As musicians, they are outstanding, moving seemingly easily between quiet humming to solos. Their voices blended beautifully, creating so much emotion.
Trevor Bowen costumed the soldiers in black, layers, various versions of sweaters, coats, hats, trousers, and even kilts. Simple crates are the set, which is dark, and the men move slowly, changing the shape and form of the pictures set before us. Beautiful and remarkable stage direction (Peter Rothstein). Most of the time, goosebumps covered my body, and many times tears filled my eyes. 
As James Ramlet quotes Winston Churchill: Some other method must be found for settling this dispute.
It was as if we had decided to end the fighting all by ourselves. Could it really have happened like this? If all the troupes all along the line had refused to fight on both sides, would the war have ended, there and then? If we had all walked away at that point, could the result have been a truce? I doubt it, but it's a thought. Sgt. G.H. Morgan.
The senseless fighting, the need to make peace, the humanness of the young men and women whose lives are cut short are at the heart of this piece. The beauty of music, poetry, storytelling, and memory keep them, their hopes and dreams, alive. And, We will remember them.
All is Calm, which has a sold out run, closes today, Sunday, December 29, 2019. Look for it next year either on stage or aired on PBS. Purchase the CD. It's wonderful. Keep supporting theaters like Theater Latté Da. 
Peace in 2020
Go. Create. Inspire!
Journaling Prompt: What special outings and celebrations have you done with friends and family this season?