Quote of the Day: The Breath of accusation kills an innocent name. Percy Byssche Shelley
Whether or not he did it, or he didn't, once he was accused, arrested, and questioned, he was convicted by the community. Devon Carlyle was living the average young man's life. He was a star on his high school basketball team, had a nice girlfriend, good friends, and hopes for a bright future, including a basketball scholarship to a college. That all changed when he took a walk along the beach one Fall afternoon after having a fight with his girlfriend. Now, his prints are all over the bloody knife and the missing shoe. His own history with the man who was attacked doesn't help his case, nor does his hot temper. His whole family suffers social rejection and judgement as Devon faces serious accusations and fights to clear his name. In times like these, you find out who your real friends are.
I was fortunate to receive an Advanced Reader Copy (ARC) of Not Guilty by C. Lee McKenzie. I could not put it down. It was as compelling to me as the podcast Serial, in which a young man is found guilty of a crime that he professes not to have committed. My sense of justice is piqued in stories like these. I want to find out the truth, see the innocent set free, and the guilty given their sentence. McKenzie is an excellent writer. I've enjoyed several of her other books, both for YA and Middle Grade, and we share space in a short story anthology called Tick Tock: A Stitch in Crime (Dancing Lemur Press)  Her story is called Heartless. I'm excited to share her next book with you and help my writing friend promote her next book. I interviewed her about this story.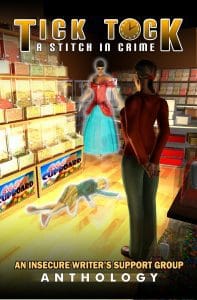 Hi Mary,
Thanks for inviting me to your blog as a guest. This is a special Halloween treat for me.
Where did you get your inspiration?
I wish I had a simple answer to that, but I don't. I only know that universal themes interest me, and I've been attracted the theme of justice for a long time. Friendship is another universal that I enjoy exploring, so in Not Guilty I write about both. Actually, that second one kind of sneaked up on me while I was already into the story, and by the end, I think it almost dominates.
I've found that getting the inspiration isn't hard at all. It's keeping it while I slog through the middle toward what I hope will be a satisfying end.
Do you know anyone who was unjustly accused of something?
Not personally, but I've read news reports—as I'm sure everyone has—about people who've been in prison for years and then found not guilty. I can't imagine how that would feel. I mean to lose years of your life, to have your friends and family swept from you while you were blameless is beyond my comprehension.
Where is one place you'd like to go to be inspired for your next work?
Too late! *Doing the happy dance!
I'm at 52K of my next book, and I found the inspiration in a couple of places, but both local. I watched some Paralympic competitions and was totally impressed by the athletic prowess of skiers who were without the use of all or some of their limbs. That sparked the idea for this next book, and I was scribbling notes and searching for my characters to bring a story to life when I attended a presentation by an author who was paraplegic.
It was fascinating to hear how this once very active woman faced the challenge of creating a new life for herself and took up her sports again. Her talk gave me more to work with, and since then I've had the great good fortune to find one doctor who specializes in spinal cord injuries to help me with the technical details. Then only a week ago—and here's when I have to say I believe in synchronicity—I discovered that someone who I've worked out with at the gym for years turns out to be the national coordinator for spinal cord injuries. I only found out her occupation when we started chatting about how much we enjoyed our workouts and how lucky we were to be able to be so active. That led to talking about my book and her career choice. Who knew? But how lucky I am to have two fabulous experts, and they've already helped me so much.
Thanks, Lee. That story will be near and dear to my heart. My brother had a spinal chord injury a few weeks before he turned 18. His grit and determination inspire me every day.
What is a favorite costume, decoration, or tradition on Halloween?
I'm a rather traditional ghost, jack-o-lantern type of Halloween person. Oh, I toss in a witch and a black cat now and then, and if I'm in a creative mood, I crank up the audio on some haunting sounds like clanking chains and creaking doors. If I'm alone, I don't do that at all because I'm kind of scaredy cat.
Me, too, Lee. Although, I do like seeing all the youngster come out in costume! 
Here's how to find Lee's book. You can also visit her website C. Lee McKenzie Books. 
A bloodied knife. One young man's word against another. A lifetime dream shattered. Not Guilty by @cleemckenzie 
How does this story end? Find out. #preorder today. @EvernightTeen
Journaling Prompt: Do you know anyone who has been falsely accused?