Quote of the Day: Pull up a chair. Take a taste. Come join us. Life is so endlessly delicious. Ruth Reichl
I am a huge supporter of community theater. The folks who are active in theater at a local level are truly dedicated to the art. They are your friends and neighbors, teachers, lawyers, accountants, resort workers, business owners by day and theater creators by night. They come in on their own time, learn lines on their commutes, and give, give, give of themselves. They create for the sheer love of the art. We have several great shows coming up in the Brainerd lakes area.
Opening tonight in Pequot Lakes, MN, GLAPA, is The Addams Family, a fun musical about a quirky family. It's a few years after the television series ended. Wednesday is all grown up and in love with a man who is from a more straight forward family. How will the families clash and collide? Will love win out? And, what of the extended family and their strange appearances? This will be a great show, a wonderful couple hours of escapism, and a talented cast. This is Stephanie White's directorial debut, and I'm excited to see her creative vision come to life. 
The Addams Family is on stage at the Pequot Lakes High School, a community theater production, February 22-March 3, 2019. For tickets and show times visit GLAPA website or call 218-568-9200. You can also buy tickets at the door, but it might sell out! You can check out the article in the Brainerd Dispatch for more info. I'll be there tonight and plan to write the review over the weekend.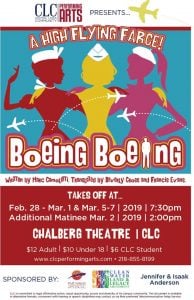 Opening next weekend, Boeing, Boeing, a French farce by Marc Camoletti, with an English adaptation by Beverly Cross. This is a Brainerd Community Theater (BCT) production at Central Lakes College (CLC). Director Beth Selinger is a skilled and experienced director who has an eye for comedy. Her cast, all veterans to the stage, are an outstanding group of actors who all have excellent comedic timing. This is sure to be one that is fun, free flying, fling in the skies and on and off the couch. With no less than nine doors, you know it's bound to be a blast to watch. Check out the article in the Brainerd Dispatch that includes an interview with director Beth Selinger. (The featured photo above is of the cast of Boeing, Boeing by John Erickson.)
Boeing, Boeing will be on the Chalberg stage at CLC, opening Feb. 28. 7:30 performances on Feb. 28, March 1, 5, 6, and 7. And, one 2:00 matinee performance on March 2. Visit CLC Performing Arts website or call the box office 218-855-8199 for tickets. I'll be watching it next Friday and plan to write the review over the weekend. 
Opening Thursday, April 4 – 7, 2019 is Stepping Out by the Stage North Theater Company at the Franklin Arts Center. This is a stage adaption of the 1991 film starring Liza Minelli. It might be a case of life imitating art imitating life. Local performers are strapping on their tap shoes and and stepping into some fun roles. This will be a chance for dancers and choreographer Wendy DeGeest to shine. Directed by Gary Hirsch. Tickets available at the AtoZ Yarn Shop in the Franklin Arts building, on B-Bay, visiting  Stage North website, or calling 218-232-6810.

If you think this looks good, wait until I announce what's coming up for summer! We have a booming theater community. So much talent and enthusiasm. (I may even audition for another summer show. Stay tuned.)
Also, registration is already open for Youth Theater Workshops that I will be teaching at CLC in June. The current Scriptfrenzy! class will present their play on April 11, 2019, at 7:00, in the multi-purpose room at CLC. Free and open to the public. They are an amazing, fun, talent group of middle school students. Our play is called Cursed Mountain. Students in Play off the Page theater classes create their own characters and develop an original play together. Come, check us out!
Go. Create. Inspire!
Journaling Prompt: When is the last time you stepped out of your comfort zone and tried something new? Maybe now is the time. It's never too late to learn a new skill, widen your circle of friends, and be an inspiration!