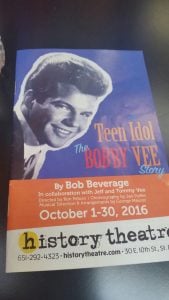 I had the pleasure of watching a concert last night by The Killer Vees, sons, grandsons, and nephews of the late great performer Bobby Vee. The show was filled with heart, exceptional music, and memories of the singer who was thrust into the spotlight on Feb. 3, 1959. The story of Bobby Vee: Teen Idol has been on stage at the History Theatre in St. Paul, MN, premeiring in 2016, and again in 2018, with plans to bring it back in the near future. I saw the show with my then teenage sons. We all enjoyed it, and I appreciated learning more about the artist, his life, and the history of music in America. 
Info from The Killer Vees Facebook Page:
The Killer Vees, featuring Jeff, Tommy, Matt, and Bennett Vee will reunite one last time to say goodbye to their father, uncle, grandfather, mentor and band-leader Bobby Vee. Complete with Bobby's touring string section and cast members from the smash hit musical Teen Idol: The Bobby Vee Story helping out on background vocals.
"This is not a show we ever wanted to do," said Tommy Vee. "We only plan on doing this in a handful of venues. My Dad loved his Midwest roots. This is where it all started for him and the fans meant the world to him so this feels important to us. I know it would make Dad smile."
The show will feature video and stories from Bobby's career along with all the hits. Bobby's nephew Matt Vee (son of founding Shadows member Bill Velline) will cover the lead vocals. "For me to be singing my dear uncle Bobby's songs is the greatest privilege and honor I can imagine. Bobby is my favorite singer of all time and I was so lucky to be part of his shows over the years as lead guitarist and backing vocalist. It will be a night to celebrate and cherish!" Matt said.
Bobby Vee's career started in Moorhead, MN on February 3, 1959, when his group The Shadows volunteered to help fill in after learning about the plane crash that took the lives of Buddy Holly, Ritchie Valens and The Big Bopper. "My Dad always remembered that night as kind of surreal," said Tommy. "He said it was kind of like a rock and roll wake… Everybody was in shock." And so began an international career that spanned 52 years and saw Bobby tour the world and land 38 songs in the Hot 100.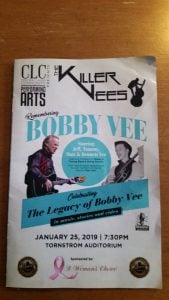 Bobby Vee passed away peacefully surrounded by his family on October 24, 2016.
Bobby's son Tommy did most of the talking for the group during the performance. Tommy, his brother Jeff, and cousin Matt all toured with his dad, traveling all over the world and meeting many legends of the music industry. Many of them are still family friends. The performance is intimate and personal. They show clips of Bobby during tours, performing with family and musician friends, and nostalgic images of the times. The entire show is a wonderful legacy to Bobby Vee. Not only are his sons and nephew performing his music, but also their children, including a young 10-year-old guitar player and 17-year-old Bennett Vee on acoustic guitar and vocals. Tommy said, "As dad said, The Beat goes on." Some of the band members who toured with Bobby are also performing for this concert including keyboardist George Mauer, and an excellent string section, as well as a few cast members from the Bobby Vee: Teen Idol show. 
You can find out more info on the Killer Vees Facebook page, including more tour stops. They also feature some of Bobby's lesser known songs from an album of original songs that he recorded when the record label was ready to drop him. They told him they would record it, but not promote it. That's a shame, because the music is great, with many original songs by Bobby. He put his given name on the album Robert Thomas Velline – Nothin' Like a Sunny Day. I'm going to look it up, now, and buy a couple of Bobby Vee's CDs. 
Go. Create. Inspire!
Journaling Prompt: Who are/were your teen idols?